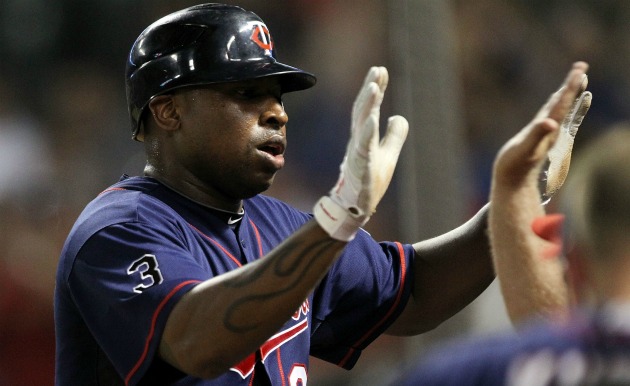 By Evan Brunell

The
Twins
announced Monday that
Delmon Young
has been traded to the
Tigers
for prospect Cole Nelson and a player to be named later.
This deal comes as a bit of a surprise, doubly so because its an intradivision trade. The Twins have clearly soured on Young, who cost
Matt Garza
in a multiplayer blockbuster with the
Rays
prior to the 2008 season. After a successful start to his major-league career as a 20-year-old in 2006, Young faded over the coming years before resurging last year to a .298/.333/.493 mark. He collapsed this year, though, down to .266/.305/.357 despite improving his plate discipline. Most of his downfall this season has come thanks to a disappearance in power, but given his career history in the department, it's too soon to write it off as a new trend, not a fluke. Young is just 25 years old and has one more year of arbitration before qualifying for free agency. He's currently playing under a $5.37 million contract. Coupled with a raise in arbitration, his salary certainly played a part in trade discussions.
It's a bit of a surprise to see Minnesota give up on Young
for an unimpressive return, especially given Minnesota is 11 1/2 games out and can -- and should -- build for the future. Playing Young exclusively the rest of the way and hanging into him going into 2012 would have been the smarter move for a club like Minnesota, whom needs to get younger and work on capturing upside. As disappointing as Young has been in a Twins uniform, 2010 aside, he has shown flashes of being a productive major-leaguer and is the type of player the Twins should hold onto, especially with Jim Thome, Michael Cuddyer and Jason Kubel all impending free agents, three spots Young could have filled.

This deal might have made better sense (and to be fair, could still yet make sense) if Nelson wasn't the featured player coming back. Selected in the 10th round in 2010, the giant (6-foot-7) had a 4.87 ERA in 105 1/3 innings for high-Class A, striking out 87 and walking 50. There's a chance the lefty could develop into a mid-rotation starter or solid reliever, but he's far from a sure thing. The deal can better be judged once the player to be named player is revealed, but it's hard to imagine the player being of the caliber to justify the deal as Young is being traded at his lowest value. Minnesota must feel quite strongly that Young is never going to develop into a consistent force to move him to a team Minnesota will be jockeying with next season for the playoffs. It's hard to blame Minnesota as Yuniesky Betancourt is the only player with more plate appearances and a lower Wins Above Replacement (WAR) mark than Young, as Aaron Gleeman points out. That's definitely a disappointing player.

Detroit will certainly find out, though. Young joins a crowded -- but not particularly good -- outfield in Detroit and will receive ample playing time and is reportedly batting third for Detroit Monday night against his now ex-team in Minnesota, as a Twins PR person tweets. Young could be the bat Detroit needs to carry the club to the division title, but even if not, he won't actively harm the team. Detroit can evaluate Young for the rest of the season and if it doesn't like what it sees, can walk away at zero cost after the year by non-tendering Young.

In short, this trade is virtually all upside for Detroit, even if Young has been one of the biggest disappointments in recent history for a prospect, while giving up no one they will miss and the ability to walk away from Young's salary at the end of the year. The Tigers desperately need to find someone capable of carrying this offense into the future alongside Miguel Cabrera, and it could be Young. If not, no harm, no foul. It's tough to see where the Twins are coming from on this one.


For more baseball news, rumors and analysis, follow @EyeonBaseball on Twitter or subscribe to the RSS feed.