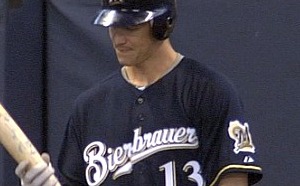 By Evan Brunell

On Sunday, the
Brewers
wore their "Bierbrauer" jerseys -- "Brewers" in the German language.
Problem is,
Zack Greinke
beat them to it on Saturday when he dressed in the Bierbrauer jersey and pinch-hit in the bottom of the fifth inning to lay down a sacrifice bunt. That's against the rules -- all players must wear the same uniform -- but neither the umpires or
Pirates
noticed, so play went on as scheduled. If someone had noticed, the Brewers would have had to change batters or wait for Greinke to change his jersey.
"I had no idea," manager Ron Roenicke
told MLB.com
, saying Greinke was wearing a fleece pullover before and during the game, so no one saw his uniform. "It was blue, and that's all it looked like to me. I didn't know until one of the guys said something. He didn't know [either]."
H/T: Big League Stew for both the story and the photo.

For more baseball news, rumors and analysis, follow @EyeonBaseball on Twitter or subscribe to the RSS feed.