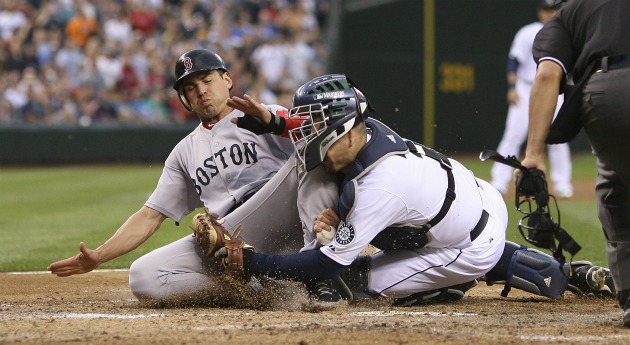 By C. Trent Rosecrans
Just because a player slides into home doesn't mean a nasty collision can't take place -- and one did in the fourth inning of Saturday's game between the Red Sox and Mariners. However, the only person out of the game after Josh Bard blocked the plate from Boston's Jacoby Ellsbury was Red Sox manager Terry Francona.
Francona was ejected because he argued home plate umpire Mark Ripperger decision to overturn his initial safe call and ruled Ellsbury out.
With one out in the top of the fourth, Ellsbury was on third when Dustin Pedroia flied out to right. Ellsbury tried to score on Ichiro Suzuki, who threw a one-hopper to Bard. The ball arrived at home well before Ellsbury, who slid into home, but got a knee into Bard's jaw.
It appeared that Bard lost control of the ball and Ripperger called Ellsbury safe. After the umpires conferred, Ellsbury was called out, ending the inning. That's when Francona argued more and was tossed. It was the 33rd time in his career he was ejected.
For more baseball news, rumors and analysis, follow @eyeonbaseball on Twitter or subscribe to the RSS feed.