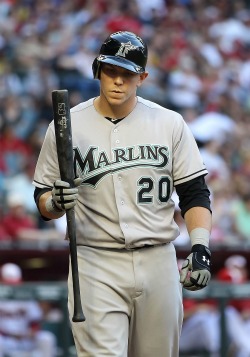 By C. Trent Rosecrans
The Marlins released veteran Wes Helms and demoted 23-year-old Logan Morrison following Saturday's 3-0 loss to the Giants.
While Helms release isn't too surprising considering the 35-year-old is hitting .193/.279/.239 in 68 games, Morrison's ticket to Triple-A New Orleans was more surprising. Morrison is hitting .249/.327/.464 with 17 homers and 60 RBI. While manager Jack McKeon told reporters Morrison needs to "work on his whole game," Morrison told Harvey Fialkov of the Sun-Sentinel that he believed he was demoted because of something "off the field."
Marrison is one of the game's most entertaining players off the field and on Twitter and in other media.
"I think it's something else but I don't know if I want to say it right now," Morrison told Joe Capozzi of the Palm Beach Post.
Morrison said he was "heartbroken."
"Right now I just feel resentment and anger," Morrison told Capozzi. "Stand up for what's right and this happens."
Morrison wouldn;t elaborate on what he stood up for that got him demoted. He said he asked for an explanation from the Marlins brass and his batting average was cited.
Morrison had not tweeted since being released (as of midnight), even though Morrison didn't think Twitter was the issue.
Capozzi cited a team source as saying the organization is trying to send a message, "To me it's a lesson, concentrate on the game and stop trying to be so funny."

Morrison said he felt both moves were related to "the same incident."
Helms said he didn't know what the issue with Morrison was, but as for himself, he doesn't want to retire.
"I'm hitting .190 and haven't played much lately," Helms told the Sun-Sentinel. "They got to do what they got to do. They got a new stadium next year and evidently I'm not part of the plan. I'm not done yet. I want to give it a shot somewhere else. Not ready to coach yet."
For more baseball news, rumors and analysis, follow @eyeonbaseball on Twitter or subscribe to the RSS feed.