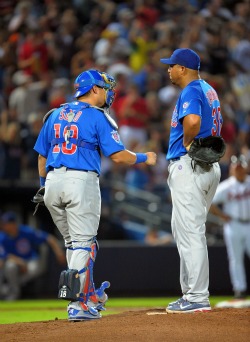 By C. Trent Rosecrans
Pretty much everyone who saw the video of Carlos Zambrano's noticed that when the Braves came out of the dugout looking for a fight, none of the Cubs came out to defend Zambrano. They didn't start on Saturday.
Before Saturday's game in Atlanta, several Cubs said Zambrano's actions were over the line.
"He's been doing a lot of things, not once or twice, he's got think a little bit more," Alfonso Soriano told reporters, including Paul Sullivan of the Chicago Tribune. "He's a big man, but mentally he's weak."
Soriano confronted Zambrano before the pitcher packed his bags and left on Friday, a source told CBSSports.com.
Fellow starter Ryan Dempster, who has been with the Cubs since 2004, said he didn't think Zambrano would pitch for the Cubs again.
"It's not like it's something new," Dempster told the Chicago Sun-Times. "It's been one after another. We've learned to deal with it pretty good."
He added that the team was dealing with it better since Zambrano wasn't at the ballpark on Saturday.
"I think the guys in here are pretty upbeat today," Dempster told the Sun-Times. "He's made his bed; he's got to sleep in it. For us, we'll just go out there and give our best tonight and move forward. The faster you move forward the faster things get better."
Some players told the Sun-Times' Gordon Wittenmyer that they didn't think Zambrano could return to the team.
"I think he needs to find some guy to talk to him, because he's got a problem," Soriano told Wittenmyer. "A lot of people try to help him, but he doesn't let them help, because that's him."
General manager Jim Hendry, the same man who gave Zambrano a five-year, $91.5 million contract, called Zambrano's actions "intolerable," but said it wasn't out of character.
"We've had other instances of him not being the teammate I would aspire him to be," Hendry told the Tribune. "And certainly not all of that is public (though much of it is). You can tell by the sanction we're trying to enforce that it's not tolerated, and it's not right for the other 24. It's just totally uncalled for."
For more baseball news, rumors and analysis, follow @eyeonbaseball on Twitter or subscribe to the RSS feed.