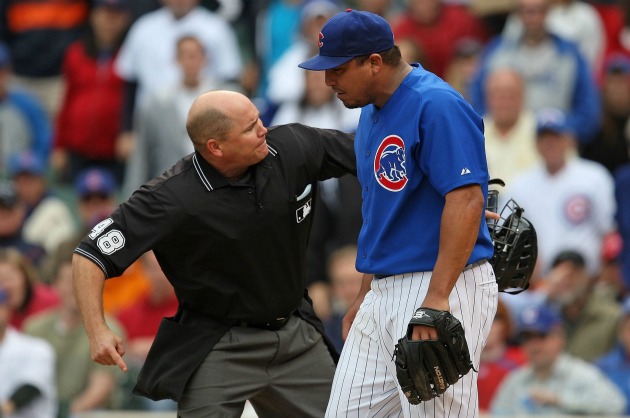 By C. Trent Rosecrans
There's plenty to say about Cubs pitcher Carlos Zambrano, but one thing is for sure, he's never boring.
August's outburst that led to the end of his Cubs' career is just another in the long list of Zambrano's outlandish behavior. Here's a look back at some of Zambrano's greatest snits -- both good and bad:
Aug. 22, 2003: Zambrano took a no-hitter through 7 2/3 innings before Shea Hillenbrand broke it up with an infield single down the third-base line. Replays showed Aramis Ramirez's throw beat Hillenbrand to first. Zambrano, then 22, showed great maturity by not getting mad at first-base umpire Bill Miller or blaming him afterward. "A lot more chances will come to throw a no-hitter," he told the Chicago Tribune at the time. Zambrano retired three more batters before giving up two hits in the eventual Cubs victory.
July 19, 2004: After giving up the go-ahead homer to Scott Rolen in the eighth inning of a game against the Cardinals, Zambrano hit Jim Edmonds on his next pitch and was ejected. In the fourth inning of the game, Edmonds homered and did his usual admiring of his homer, to which Zambrano took exception. Zambrano yelled at Edmonds as he neared home plate and benches cleared. In Edmonds' next at-bat, Zambrano struck him out on three pitches and waved his finger at him. After hitting Edmonds, Zambrano said he didn't do it intentionally, although -- shocker -- Tony La Russa had an issue with Zambrano's actions.
April 4, 2005: In his first opening-day start, Zambrano was pulled in the fifth inning and argued with home plate umpire Dale Scott, who ejected him.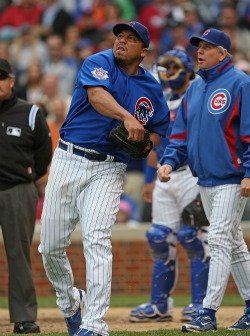 May 14, 2005: Zambrano left his start at Washington after just 3 1/3 innings, having given up four runs on four hits. He reportedly had a sore elbow and later said it because he'd been spending four hours a day on his computer e-mailing his brother and others in his native Venezuela.
June 5, 2006: Zambrano took a perfect game into the eighth inning before giving up a hit to Preston Wilson with one out in the inning. Zambrano also hit a three-run homer in the second inning.
June 1, 2007: After a passed ball and a bad throw from catcher Michael Barrett helped lead to five Braves runs in the fifth inning, Zambrano confronted the catcher as they made their way to the dugout and a small fight ensued. After manager Lou Piniella removed the two from the game, the fight continued in the clubhouse where Zambrano punched Barrett -- which required Barrett to get stitches in his lip. Barrett was traded to the Padres before the month was over.
Aug. 17, 2007: Just 26, Zambrano signed a five-year, $91.5 million contract that would keep him in Chicago through at least 2012 -- which at the time was thought to be a good thing.
Sept. 3, 2007: After allowing eight runs in 4 1/3 innings in a loss to the Dodgers, the Wrigley faithful booed Zambrano, who then went after the fans following the game. "I don't accept that the fans were booing at me," Zambrano said after the game (via Chicago Tribune). "I thought these were the greatest fans in baseball. But they showed me today that they just care about them, and that's not fair."
Sept. 14, 2008: Zambrano threw a no-hitter against the Astros at Miller Park in Milwaukee, where the game was moved because of damage in Houston due to Hurricane Ike. Zambrano struck out 10, walking one and hitting one. He became the first Cub to throw a no-hitter since Milt Pappas in 1972.
May 27, 2009: After a close play at the plate, umpire Mark Carlson ejected Zambrano, who then mock-ejected Carlson, threw a ball into left field, threw his glove and then destroyed a Gatorade machine in the dugout with a bat. He was suspended six games and fined $3,000.
June 1, 2009: While serving his suspension, Zambrano missed the team's flight to Atlanta. Piniella said the incident was "handled internally."
June 5, 2009: After recording his 100th career victory, Zambrano said he would retire after his contract with the Cubs was finished. "After this contract, I'm done," Zambrano said at the time (via MLB.com). "I'm serious. I don't want to play. I want to help this team, I want to do everything possible to win with this team, but after five years or four years, or whatever I have left on my contract, I just don't want to play."
June 25, 2010: After giving up four runs in the first inning against the White Sox at U.S. Cellular Field, Zambrano stormed off the field and into the dugout and got into the face of first baseman Derrek Lee, whom he blamed for not fielding a ball hit by Juan Pierre. The two had to be separated and Piniella took Zambrano out of the game. General manager Jim Hendry suspended him indefinitely and then the next day it was revealed Zambrano would have to undergo anger management before returning to the team. It was also later revealed that Zambrano had dinner with then-White Sox manager Ozzie Guillen after the game.
July 26, 2010: Instead of apologizing to his teammates, Zambrano went on ESPN and made a blanket apology for the incident. He said he had talked on the phone with Lee.
Aug. 9, 2010: After making three appearances out of the bullpen, Zambrano made his return to the rotation, allowing four hits and two runs along with seven walks in five innings against the Giants. He received a no-decision and the Cubs lost the game. However, in his 11 starts after returning from suspension, he went 8-0 with a 1.41 ERA, giving some hope that he'd changed following the incident and would once again be a productive member of the team.
May 27, 2011: Zambrano said his stiff neck was a result of watching TV in bed.
June 5, 2011: After Carlos Marmol blew a save for Zambrano, the right-hander went off on the team, saying the Cubs "play like a Triple-A team' and that the team was "embarrassing" and "we stink."
Aug. 13, 2011: After allowing five home runs to the Braves, Zambrano was ejected for twice throwing inside to Chipper Jones. Zambrano immediately cleaned out his locker, took his nameplate and told clubhouse personnel he was retiring. The Cubs soon placed him on the restricted list.
For more baseball news, rumors and analysis, follow @eyeonbaseball on Twitter or subscribe to the RSS feed.