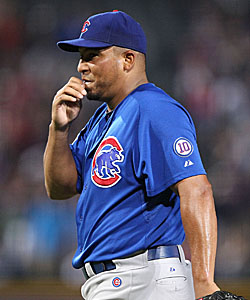 By Matt Snyder
After coughing up his fifth home run of the game to the
Braves
-- coming off the bat of red-hot
Dan Uggla
-- volatile
Cubs
starting pitcher
Carlos Zambrano
had a conference with his pitching coach. The Cubs were trailing 8-1 with one out in the fifth. The guess here is Zambrano was told he wasn't coming out of the game just yet because the Cubs were trying to save the bullpen. Zambrano then threw at
Chipper Jones
and got himself ejected. The Braves hadn't been showboating whatsoever on any of the five home runs, so the best explanation is that Zambrano had had enough and was ready to take his ball and go home.
As if his intent wasn't clear enough, Zambrano immediately and calmly started walking toward the Cubs dugout, even as the Braves' dugout emptied. He didn't want to fight (nor did anyone else, fortunately, as nothing happened once the benches were cleared). He just didn't care to help his team and wanted out of the game. I've always been fair with Zambrano -- in fact,
I have defended him before in this space
-- but this was blatant disregard for everything but his own, selfish intentions.
Look, we don't know what was said on the mound by Cubs pitching coach Mark Riggins, but it's not very feasible he went out there and told Zambrano to throw at one of the most respected veterans in baseball. Therefore I'd have to conclude that Zambrano was acting only in the interests of himself -- whether he didn't want his ERA to suffer any more damage or if he was just sick of getting pounded around the ballpark, who knows? -- and didn't really care what his coaches, teammates and manager might need from him.
These are the kinds of things that make me want to stop defending Zambrano for good. He's 30 years old. Enough's enough.
READ MORE:
Evidently Zambrano agrees enough is enough, because
he's telling people he's retiring from baseball
.
For more baseball news, rumors and analysis, follow @EyeOnBaseball on Twitter or subscribe to the RSS feed.