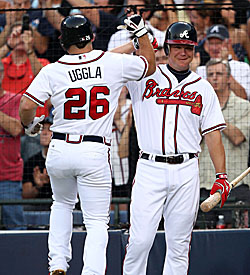 By Matt Snyder
Dan Uggla
now has the longest hitting streak in the history of the Atlanta
Braves
. He extended his streak to 32 games by hitting a home run in the second inning off an 0-1
Carlos Zambrano
pitch. The home run was kind of fitting, as this hasn't been a cheap hitting streak by any stretch. Not only has Uggla raised his batting average over 50 points since the streak began, but he now has 13 home runs and 18 extra-base hits in these past 32 games.
Quick update:
Uggla hit another homer off Zambrano. So make that 14 HRs and 19 extra-base hits during the streak.
The homer moves Uggla into sole possession of
22nd place on the list of longest streaks in baseball history
. It is the longest in baseball since
Chase Utley
had a 35-game streak five years ago. The Braves franchise record is 37, which was set in 1945 by Tommy Holmes of the Boston Braves. The NL record is Pete Rose at 44, while the major-league record -- as nearly every baseball fan knows -- is Joe DiMaggio at 56. We can't start thinking about Rose until 40 games or DiMaggio until Rose's record is broken, though, because those are far in the distance.
Now the focus on Uggla shifts to the Braves' Saturday game against the
Cubs
.
Randy Wells
is the starting pitcher for the Cubs, and
the numbers suggest
Uggla has a pretty good shot at extending this thing to 33 games. But the game isn't played on paper, so we'll find out Saturday.
For more baseball news, rumors and analysis, follow @EyeOnBaseball on Twitter or subscribe to the RSS feed.