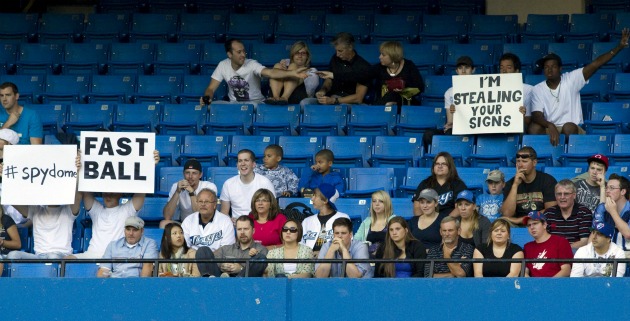 By C. Trent Rosecrans
The
Angels
are the next team headed to face the
Blue Jays
at Rogers Centre and manager Mike Scioscia
told Bill Plunkett of the Orange County Register
that he doesn't "anticipate" changing the team's signs in the wake of the sign-stealing allegations.
Scioscia also added that he'd never heard of the mysterious "man in white" in the stands.
"What makes that hard to believe is if something like that is going on and a player changes teams, that information would get out," Scioscia told the paper. "If you're part of a team and you know something like that that's not kosher is going on and then you change teams -- that word is going to get out."

Like, by say former Blue Jays pitcher Scott Downs, now an Angel.
"I played there for six years and I didn't hear anything about anything like that," Downs told Plunkett.
Downs added -- "I'd be dumb not to say anything [to his new team.]"
Downs also defended Jose Bautista, saying Bautista is a testament to hard work, nothing else.
It could be that Downs and Scioscia are playing dumb and they're in on a vast conspiracy keeping this on the down-low -- or that only the hitters knew of the "man in white" and kept it from the pitchers, who had no need to know and could only hurt them if they went somewhere else. Or the report could just be a rumor. Or, most likely, the truth is somewhere in-between.
For more baseball news, rumors and analysis, follow @eyeonbaseball on Twitter or subscribe to the RSS feed.