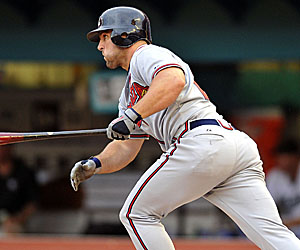 By Matt Snyder
Braves
second baseman
Dan Uggla
picked up a knock in the first inning Wednesday night, extending his hitting streak to an MLB season-high 31 games. One day later, a Braves off-day, the focus now shifts to the upcoming series. The Braves return home to face the
Cubs
for a three-game series, beginning Friday night. Let's take a look at how Uggla has fared against the Cubs' pitchers in his career.
Friday starter: Carlos Zambrano
Uggla is 1-for-9 with five strikeouts in 13 plate appearances against Zambrano. Zambrano's 9.3 hits per nine innings this season is the worst of his career by a full hit and his strikeout rate is as low as it's ever been. So, basically, he may not be near as tough on Uggla as he has in the past. Zambrano has a bad history at Turner Field (6.52 ERA, 1.76 WHIP), so this one appears to be tough to predict.
Saturday starter: Randy Wells
Wells has been awful this year, with an ERA over 6.00 and is allowing 10.7 H/9. In Uggla's small sample against Wells, he's 1-for-2 with a walk. So if the streak is alive heading into Saturday, there's a pretty good chance it's going to Sunday.
Sunday starter: Matt Garza
Uggla's 3-for-9 with a walk and hit-by-pitch in 11 career plate appearances against Garza. Garza has been a good strikeout pitcher this season and is allowing 8.5 H/9. He's been both inconsistent and hurt by poor luck (bad defense, seeing-eye grounders, etc.). This one feels like a bit of a toss-up, but Uggla's hot and has a pretty good history against Garza.
Cubs' bullpen
Uggla owns one of the Cubs' top relievers,
Sean Marshall
, having gone 6-for-16 with three doubles against him. But Marshall is left-handed and Uggla's 0-for-8 against the Cubs' top two right-handed relievers,
Kerry Wood
and
Carlos Marmol
. Uggla is 1-for-5 with a home run against
Jeff Samardzija
.
For more baseball news, rumors and analysis, follow @EyeOnBaseball on Twitter or subscribe to the RSS feed.