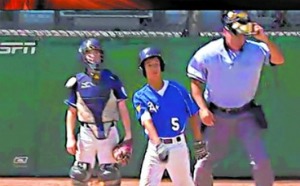 By Evan Brunell

Stephen Strasburg
voiced his displeasure with a 13-year-old Little League player on Tuesday when youngster Caesar Garcia rocketed a home run in a game broadcasted live by ESPN2 as part of the Little League World Series. Garcia dropped his bat after connecting, then walked four steps while admiring his home run before beginning to jog around the bases.
ESPN announcer Greg Swindell immediately noticed, calling it "showboating" while Strasburg took to Twitter with his opinion.
"Pretty sad seeing 12 year olds pimp home runs and throwing all curve balls. Times have changed,"
Strasburg tweeted
. Garcia turned 13 last month.
Garcia's father, Steven, fired back, telling the
Albuquerque Journal
all Caesar was doing was mimicking
Robinson Cano
of the
Yankees
, his favorite player.
"It's crazy that a pro baseball player would tweet hateful stuff," he added of Strasburg. His son didn't seem too bothered, though.
Caesar posted on his Facebook page, which has since become priivate, saying "strasburg tweeted about me pimpin my home run!!!!!… blahhhhhhhhhhhhhhhhhhh epicness"
However, Steven did admit that what his son did would not be acceptable at higher levels.
"In high school, college and pros, it would be handled in a certain way," he said. "We had that conversation all the way home."
For more baseball news, rumors and analysis, follow @EyeonBaseball on Twitter or subscribe to the RSS feed.

Photo originally from ESPN broadcast via
Albuquerque Journal
.