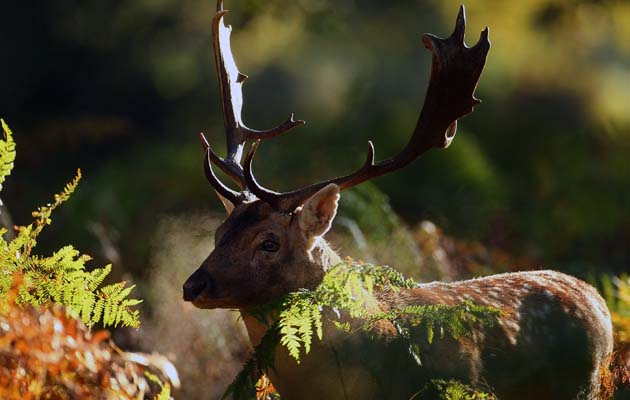 By Evan Brunell

Last week, Major League Baseball warned players of the possibility of
testing positive for a steroid if they used deer antler spray
, an increasingly popular method by athletes to boost performance.
In an interview with CBSSports.com, Ricardo Lentini, CEO of
Nutronics Labs
, spoke about just what deer antler spray is and why ballplayers and fans alike should not consider it in the same class as steroids. Neutronics Labs has been in business for over 15 years and is the largest manufacturer or deer antler spray. Lentini entered the business when his cousin was diagnosed with Lou Gehrig's disease. The family was seeking a natural product to help and a doctor,
Dr. Alex Duarte
, referred Lentini to deer antler velvet.
"Deer antler, although known to ancient Chinese medicine, has only recently been in the public eye due to the increasing body of evidence of its effectiveness to maximize the body's potential," Lentini said, comparing deer antler spray to human growth hormone in that it provides "all the benefits of having growth hormone without actually taking growth hormone."
Deer antler velvet, taken from deer before they fully mature and their antlers turn to bone, holds IGF-1, an extract of the antler that closely matches naturally-occurring growth factors when HGH is released into the body. IGF-1 allows muscle to use fat for energy, moderates the immune system, reduces fat and promotes muscle-building. Naturally-occurring IGF-1 is made in the liver.
"The IGF-1 Plus product allows you to be the best that you can be, without the dangerous side effects of anabolic steroids," Lentini said. "The compound is composed of factors that allow for natural growth of your tissues and does not try to go beyond these natural parameters. Anabolic steroids, on the other hand, often try to do this and frequently results in disastrous consequences including ease of injury and possible damage to the heart and other organs."
Deer antler extract is applied under the tongue with a spray or a dropper and holds no harmful side effects, Lentini added. The gains prevalent by using IGF-1 is limited to using substances which occur in the body in proper proportions, providing a check and balance to eliminate harmful side effects and "will not allow for gains beyond what a body is naturally capable of," Lentini noted.
MLB's warning included a specific brand of deer spray and not necessarily IGF-1 in general, with the league warning that those who take deer antler spray could potentially test positive for a steroid called methyltestosterone which is not an ingredient in deer antler spray. Nutronics Labs is not the company in question, but it
sent a letter
to commissioner Bud Selig in response to the ban, defending its product and assuring that no steroid is present in deer antler spray.
"There is absolutely no methyltestosterone in our product," Lentini told CBSSports.com. "Our product has been lab verified by a leading drug-testing lab and certified to be free of methyltestosterone and steroids.
"There is no way that this product should be able to trigger even a false positive test," Lentini continued. "There are no significant similarities in the chemical composition of these compounds."
The PGA Tour has also come out against deer antler spray,
ThePostGame.com reported
Thursday morning, warning against its use, especially the product titled "The Ultimate Spray," sold by Sports With Alternatives To Steroids. None of the athletes who have
admitted using the spray to ThePostGame.com
have tested positive for either IGF-1 or methyltestosterone, as there is no accurate drug test to measure IGF-1 in the body, which is banned by the World Anti-Doping Agency.
"The issue regarding the methyltestosterone is that it is an artificial compound designed to bolster a person's strength and performance above and beyond what that person's body was meant for," Lentini said. "We agree with MLB's and the NFL's continued vigilance in screening out this dangerous compound as it creates an unfair advantage, while potentially threatening that person's long term health and life. Since Nutronics Labs IGF-1 Plus Products contain no methyltestosterone, it would be a travesty to have this product and its wondrous and natural benefits to be banned or restricted in any way."
For more baseball news, rumors and analysis, follow @EyeonBaseball on Twitter or subscribe to the RSS feed.