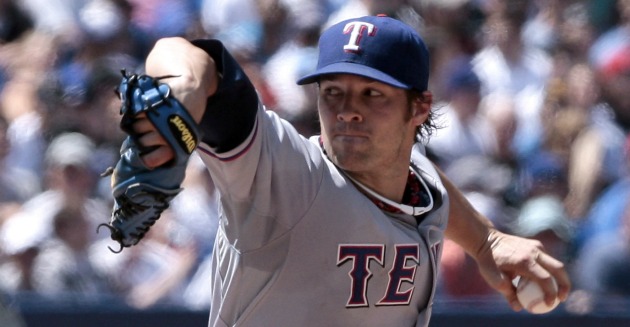 By Evan Brunell

You can cross Oakland off the list of potential destinations for
C.J. Wilson
.
"I hate pitching there," Wilson told MLB.com. "The mound [stinks]. The fans [stink]. There are no fans there. It's too bad, because the fans that are there are really adamant and stoked on the team. They play drums and they wave flags, and it's cool. But some games you go there and there are, like, 6,000 people there. It's kind of sad, because that's a Major League team, and there are guys out there that are obviously pretty good players. Guys like [Trevor] Cahill and Gio Gonzalez, obviously, they are All-Star pitchers, and I just wish the fan base supported them a little bit more."
Wilson, who is with the Rangers, is eligible for free agency after the year and is currently the top arm slated to hit the market. That could change if CC Sabathia opts out of his contract with the Yankees or Yu Darvish follows through on his plan to come stateside from Japan, but even then, Wilson will be a coveted arm. The left-hander came up through the Rangers system as a starter and made six starts in his rookie season of 2005, appearing in 24 games overall.
The 30-year-old pitched exclusively as a reliever through 2009 and collected 50 saves from 2007-09 and was converted back to the rotation for 2010, where he posted a 3.35 ERA in 33 starts over 204 innings, a smashing success that no one saw coming. This year, Wilson has the same ERA but has pitched even better, striking out more batters and significantly dropping his walk numbers. That will leave him in high demand once he hits the free-agent market.
Wilson has a point about the fans in Oakland. The attendance and interest has gotten so bad that the A's have been trying to move out for quite some time. A deal to move to Fremont fell through, and now the A's have been waiting years to see if they will be approved to relocate to San Jose, a territory that the San Francisco Giants hold rights to. In the interim, the A's have to deal with limited revenues and a ballpark that is not conducive to fan enjoyment, or position-player enjoyment, as hitters tend to avoid signing in Oakland due to the cavernous park.
Wilson would actually benefit from pitching in the dimensions of O.co Coliseum, but he would prefer to stay in Texas over moving west even though Rangers Ballpark is a hitter's haven and situated in Texas, where brutally hot temperatures are the norm in the summer.
"I'd rather pitch here than in Oakland, regardless of the weather," he said. "I don't like their fans. You don't need to worry about me signing there after the season. They hate me anyway, so it doesn't matter. The players on their team hate me, whatever. I don't care. It's true -- dudes on their team don't like me. I get it."
For more baseball news, rumors and analysis, follow @EyeonBaseball on Twitter or subscribe to the RSS feed.