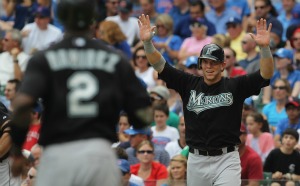 By Evan Brunell

The
Marlins
'
Logan Morrison
and
South Florida Sun-Sentinel
reporter Juan C. Rodriguez had a bit of a spat Wednesday night, when Rodriguez wrote that Morrison had taken "jabs" at teammate and star shortstop
Hanley Ramirez
.
Morrison
told Rodriguez
the Marlins lack "experience and a veteran who is in the lineup every day that can be an anchor for us" in the lineup. The club has been struggling offensively, and Ramirez hitting the disabled list with a sprained left shoulder after sitting out eight straight games certainly didn't help matters.
When asked if Ramirez could be that person, Morrison added, "I guess, but he's not there every game. It's 162 games. It's not a 100-game season."
That was enough for Rodriguez to title his story "Florida Marlins OF Logan Morrison takes more jabs at DLed Hanley Ramirez," and that upset Morrison greatly, who took to Twitter to voice his complaints.
"[F]unny how u left the part out about how unfortunate it is that he was hurt and that he could be an anchor if he was healthy,"
he tweeted
to Rodriguez,
adding another note
that the story "probably wouldn't have been that good of a story then! Might want to think twice about coming around my locker next time."
Let's stop for a second and appreciate how much Twitter has changed the baseball world. In the past, the only conduit to fans for players on a large scale was through the media. Now, players are not only able to go straight to the fans with Twitter, but they can take a stand for themselves if they feel they are being improperly treated. In the olden days, Morrison would have only been able to tell Rodriguez the next day not to come to his locker anymore, and the story would have swelled. Instead, Morrison fired off some tweets after reading the story and was able to defend himself to the public. Rodriguez then altered the story,
telling Twitter followers
that the issue had been "straightened out."
The new story added two sentences:
Morrison later clarified his comments, saying they weren't intended as a dig at Ramirez. What he meant to convey was that the offense's struggles sans Ramirez shows how important he is to this team.
Disaster averted, thanks to the magic that is Twitter. Any time you can make a process more public, open and transparent, that's a good thing. A chief complaint players have when they deal with the media is that the media selectively uses quotes to craft the story, painting things in a certain light that may otherwise have been unintended. In the olden days, reporters had space considerations in the newspapers, so would lop off any quotes that were extraneous or unimportant. These days, it's less of an issue given the internet has no space limitations, but as we saw, that doesn't erase the issue entirely. With the advent of social networking, though, it allows for one more check and balance.
For more baseball news, rumors and analysis, follow @EyeonBaseball on Twitter or subscribe to the RSS feed.