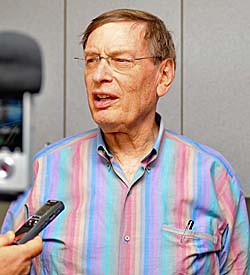 By Matt Snyder
One thing that has long annoyed many fans about baseball's playoffs is the unnecessary off-days. During the regular season, each team plays at least six games a week and sometimes all seven days in a given week. Then they'd get to the playoffs and take about nine days to play a five-game series. One example that still sticks out in my head is the
Yankees
-Angels 2009 ALCS, when there was an off-day with no travel. Game 4 was played in Los Angeles, the following day there was no game, and then Game 5 was played in Los Angeles.
Angels
manager Mike Scioscia mentioned how stupid it was during the winter meetings that offseason.
So when the press release arrived with the 2011 postseason schedule, let's just say I wasn't expecting much. And I was wrong, thankfully.
Major League Baseball has announced the following dates (* indicates "if necessary" games):
NLDS, both series:
October 1, 2, 4, 5*, 7*.
ALDS, both series:
September 30, then October 1, 3, 4*, 6*.
ALCS:
October 8, 9, 11, 12, 13*, 15*, 16*.
NLCS:
October 9, 10, 12, 13, 14*, 16*, 17*.
World Series:
October 19, 20, 22, 23, 24*, 26*, 27*.
Every single off-day is a travel day. Otherwise they're playing games every night. No wasted days in the name of TV or whatever else was happening. What a thing of beauty. It's even finishing a whole four days before November ... at the latest.
Now, this actually does hurt some teams and help others. If someone like, say, the Yankees or
Tigers
are looking to rely heavily upon one starting pitcher, they won't be able to do so without having him come back on short rest. On the flip-side, the
Giants
and
Phillies
, for example, will be rewarded for having deep starting rotations, should they make the playoffs. We should also consider bullpens, as the
Braves
, for example, heavily rely on
Jonny Venters
and
Craig Kimbrel
at the back-end. With fewer off-days, the young duo might have to stay in the bullpen a few times when they'd normally get the ball. Or maybe the Braves run them out there and either Kimbrel or Venters doesn't have his good stuff due to fatigue. Hitters should benefit in general, as the off-days are a break in their routine.
The bottom line, however, is that this schedule is much more like the regular season and that will likely make everyone happy.
I know it's totally uncool to ever admit Bud Selig does something remotely correct, but it happened here. Of course, the weird off-days thing shouldn't have been happening in the first place. So have at it, Selig haters.
For more baseball news, rumors and analysis, follow @EyeOnBaseball on Twitter or subscribe to the RSS feed.