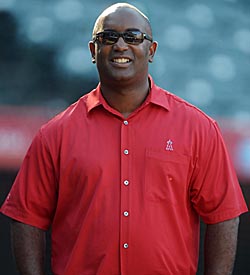 By Matt Snyder
Garrett Richards
will take the mound for the
Angels
Wednesday night against the
Yankees
. Richards is the top pitching prospect for the Angels and was drafted by former scouting director Eddie Bane. Bane also produced top hitting prospect Mike Trout and rookie pitcher
Tyler Chatwood
in recent drafts. He also drafted Tyler Skaggs, who was the key in the Angels landing
Dan Haren
from Arizona last season.
Yet Bane -- who now works for the
Tigers
-- was told he was fired because Angels general manager Tony Reagins (pictured right) didn't like the 2008-2010 drafts. Bane told the LA Times the suggestion was ludicrous, and had a different idea as to why he was canned.
"Tony and I don't like each other," Bane said (
LA Times
). "I don't think that's a reason to get fired. Personality clashes are never any fun. I don't blame him for thinking I'm not the greatest guy in the world. He's not a guy I would want to hang out with. I'm sure he feels the same way about me."
It's pretty tough to judge drafts that just happened within the past three years just yet, so it's possible Reagins didn't like the overall direction being taken by Bane with the drafts. Or maybe Reagins really just fired Bane because he hated him. The GM doesn't actually have to have a great reason to fire someone. Of course, if he has a good scouting director and fired him for no good reason, maybe Reagins will be paying with his own job soon. The
Vernon Wells
trade this past offseason wasn't exactly well received.
For more baseball news, rumors and analysis, follow @EyeOnBaseball on Twitter or subscribe to the RSS feed.