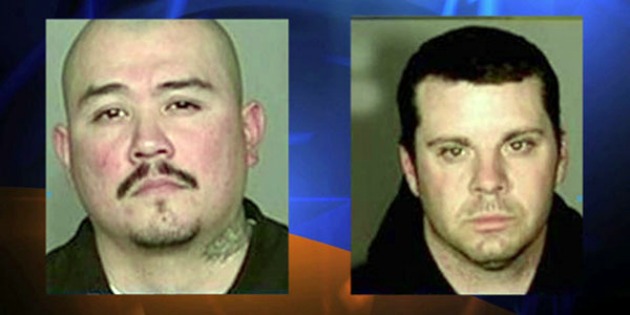 By Evan Brunell

As the two men charged with assaulting Bryan Stow, a
Giants
fan who attended Opening Day at Dodger Stadium, pleaded not guilty in court on Wednesday, good news was revealed in Stow's progress.
Stow, who lost consciousness and suffered brain damage in the brutal attack, has been responding to commands and lifting his arms and legs, the family
wrote on its website.
On Sunday, "we got the most response from Bry to date," the family wrote. "He lifted his left leg slightly when asked, he raised his left arm everytime we asked if we could hold his hand, and the best part? Bonnie [his sister] asked Bryan if she could have a kiss and every time she asked him, he puckered his lips. The final time when she was leaving, Bonnie asked again for a kiss. Bry turned his head towards her, puckered his lips for the kiss, then turned his head back. The nurse was shocked and excited to see that!"
Stow's recovery is still unclear, as doctors are trying to figure out just how much damage Stow has.
Meanwhile, the men charged with the assault, Louis Sanchez and Marvin Norwood, made incriminating statements, deputy district attorney Frank Santoro said.
"This is not an identification case. There are statements made by both defendants that will be used in the prosecution," Santoro said. "I would call them admissions."
Sanchez and Norwood are being held on $500,000 bail. Sanchez's sister, Dorene, is also involved in the case as she testified before a grand jury as an accessory to the crime, but she was not formally charged.
In court papers, prosecutors detailed the beating:
Prosecutors said in court papers that Stow tried to escape a violent man attacking him and his friends outside the stadium, but his assailant chased him down.
Prosecutors allege that Sanchez shoved Stow and punched one of Stow's friends after the opening day game. After the assault, Stow, who was dressed in a Giants shirt, continued to walk with his friends toward the edge of the stadium parking lot, with Sanchez and his friend, Marvin Norwood, in pursuit, prosecutors wrote.
Sanchez caught up with the group and punched another of Stow's friends, knocking him to the ground, the court document said. As Stow faced Norwood, Sanchez surprised him from behind and punched him in the side of the head, prosecutors allege.
Witnesses heard Stow's head hit the concrete and saw it bounce when he fell, prosecutors wrote. Sanchez then kicked the unconscious Stow and Norwood kicked him and standing over him yelled, "who else wants to fight." according to prosecutor Michele Hanisee in a court filing.
For more baseball news, rumors and analysis, follow @EyeonBaseball on Twitter or subscribe to the RSS feed.
Photo courtesy KTLA via the Times.