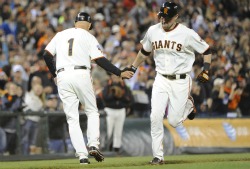 By C. Trent Rosecrans
Chris Stewart and Aubrey Huff homered for the Giants on Wednesday against the Pirates -- and like all the Giant homers for more than a month, they were solo homers.
The Giants are not only tied for 13th among National League teams in home runs, they aren't making them count. Huff's sixth-inning homer off of Pittsburgh's James McDonald was the 18th consecutive solo homer by the Giants, just one short of the all-time record, set by the 1914 Phillies.
San Francisco has managed just 23 runs in nine games this month, with 14 of those coming in two games -- a 8-1 victory over Arizona on Aug. 3 and a 6-0 win Tuesday against the Pirates.
The last time a Giant homered with a man on base was July 6 when Pablo Sandoval was on second base for Nate Schierholtz's home run off the Padres' Dustin Moseley. In the 29 games since then, the Giants have scored just 84 runs and are 15-14 during that stretch. Overall, San Francisco has scored the fewest runs in the National League. Their 405 runs are more than only the Mariners' 382.
For more baseball news, rumors and analysis, follow @eyeonbaseball on Twitter or subscribe to the RSS feed.