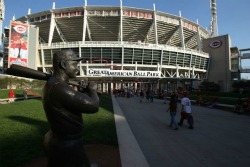 By C. Trent Rosecrans
I can't tell you how many times I've been the last person out of Great American Ball Park early in the morning after a night game -- but never have I encountered what two MLB.com writers did early Tuesday morning. Barry Bloom and Thomas Harding were robbed at gunpoint around 1:30 a.m. just outside the media entrance and exit on Pete Rose Way in Cinciinati, Hal McCoy of the Dayton Daily News writes.
Both had their credit cards taken and Bloom lost $500 in cash and Harding lost $100 in cash. Bloom is a national writer for MLB.com and Harding covers the Rockies beat for MLB.com.
"I thought the guy was a fan as he approached, but he said, 'We can do this the easy way or the hard way,'" Bloom told McCoy. "I started to walk away and he began yelling at me and pulled this big gun that looked like a Glock. He said, 'Put your wallets on the ground.' We did and he picked them up and ran off."
I'm surprised the thief didn't want more, but I guess the laptop bags would have slowed him down.
As a Cincinnati resident, the downtown area gets a bad rap, this doesn't happen very often and I sure hope it doesn't become a trend for thieves thinking writers leaving the game are easy targets -- and honestly, they'll probably be disappointed if they think every writer carries that much cash. I honestly don't think anyone considering going to a game at Great American Ball Park should worry about their safety when going to a Reds game -- I've spent a lot of time in downtown Cincinnati around the stadium at all hours and have never feared for my safety.

The media parking (which is for a limited number of media members, not all), is a block away from the ball park in a different structure and many visiting writers stay either downtown or just over the river in Kentucky and walk to their hotels or take a cab.
That said, several years ago, a writer I worked with in Georgia was robbed of his laptop and wallet before a game at old Riverfront Stadium in Cincinnati.
For more baseball news, rumors and analysis, follow @eyeonbaseball on Twitter or subscribe to the RSS feed.