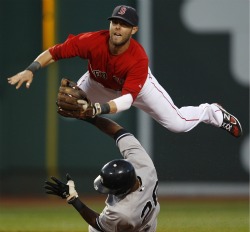 By C. Trent Rosecrans
You want to know why every time the Red Sox and Yankees play it's on national TV? Because people watch.
We in flyover country may be sick of the Yankees and Sox, but more people watch New York and Boston than any other matchup. According to a press release from MLB, a lot of people watched the Red Sox take two out of three from the Yankees in their weekend showdown.
The evidence:
• Friday's MLB Network game was the network's highest-rated game of the season, averaging 563,000 viewers, the second-highest mark in network history behind Stephen Strasburg's debut last season. The game helped MLB Network achieve its highest primetime audience ever -- even though the game was blacked out in Boston and New York home television markets.
• Saturday's Fox broadcast was its most-watched non-prime regular-season MLB telecast in more than three years with 4.10 million average viewers. That's with some of the country getting the Phillies and Giants. The last regular-season non-prime telecast to record higher numbers was a on July 5, 2008, when Fox showed the Yankees-Red Sox and Cubs-Cardinals. Fox also announced viewership is up 5 percent over last season.
• Sunday's ESPN telecast was its most-watched game in more than four years with 4.72 million average viewers, it's largest since June 3, 2007, for a -- you guessed it -- Red Sox and Yankees game. ESPN said its viewership is up 9 percent from last season.
So while many of us would like to see different teams on the national telecasts and are sick of hearing about the Yankees and Red Sox (not to mention the four-hour 9-inning games), the networks are going to keep showing them because people watch and they're in the business of getting viewers, not showing the best games or improving the MLB brand.
For more baseball news, rumors and analysis, follow @eyeonbaseball on Twitter or subscribe to the RSS feed.