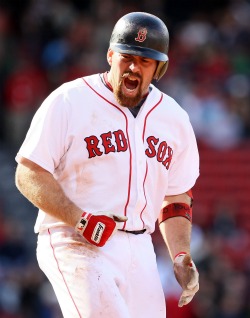 By C. Trent Rosecrans
Kevin Youkilis is under contract with the Red Sox through next season with a club option for 2013, but he can see life after Boston.
With Adrian Gonzalez locked up through 2018, Youkilis won't be returning to first base anytime soon and one of the team's most prized prospects is a third baseman, Will Middlebrooks. In an interview with ESPNBoston.com's Joe McDonald, the 32-year-old Youkilis said he could see himself returning to his hometown of Cincinnati after spending the all of his career in Boston.
"If it wasn't Bsoton, I would want to play in Cincinnati just to say that I did it," Youkilis said. "I grew up rooting for them. I used to be bitter towards the Reds because they didn't draft me, but that bitterness is gone. It would be fun and it would be for my family."
He could also make sense for the Reds. Cincinnati's current first baseman, Joey Votto, is a free agent after the 2013 season and would certainly command big money in free agency, perhaps more than the team can afford. The team is also without a third baseman of the future, as Scott Rolen's contract runs through the 2012 season and at 36 may not play past that contract. The Reds' top third base prospect, Juan Francisco, has had three stints in the big leagues, but failed to make a true impact. Francisco, 24, has a ton of power, but isn't very good defensively. Todd Frazier, currently on the roster, has played third but lacks a true position.
Youkilis is beloved in Boston, but said he could see a day when he wasn't playing for the Red Sox.
"I don't know what their plans are past [2013] but I actually think it would be cool, if I don't play here, that there's going to be another guy to enjoy the opportunities that I had," Youkilis said. "I've been thinking about that a lot. Probably for the first time in my life I haven't worried about if I had to go to another team and it doesn't bother me."
Youkilis went to high school at Sycamore High School in Cincinnati, just up I-71 from Great American Ball Park and also played four years at the University of Cincinnati. Youkilis was undrafted after his junior year and taken by the Red Sox in the eighth round of the 2001 draft. He's a frequent visitor to Cincinnati in the offseason and at Bearcat football games.
For more baseball news, rumors and analysis, follow @cbssportsmlb on Twitter or subscribe to the RSS feed.