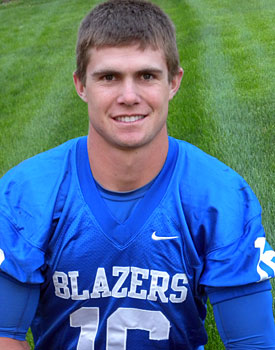 By Jerry Hinnen
The will-he-or-won't-he drama surrounding Nebraska blue-chip quarterback signee and baseball mega-prospect Bubba Starling took another turn this weekend as the Huskers' fall camp opened without Starling on the team's 105-man roster.
Per
CBSSports.com RapidReporter
Brandon Vogel,
Starling's absence wasn't a surprise to Husker head coach Bo Pelini. "Obviously he's got a lot of risk and after communicating with the family we decided this was the best way to go about it," Pelini said.
Pelini and the Huskers
are holding two spots open on the roster,
one for Starling and one for freshman defensive back Charles Jackson, who has yet to be cleared academically by the NCAA. Starling has until August 15 -- one week from today -- to sign with the Kansas City
Royals
, who selected Starling fifth overall in this year's MLB draft. Starling is "advised" by uber-agent Scott Boras.
Despite that gaudy draft position and
the massive contract it demands,
Starling has long maintained he would consider playing both football and baseball for the Huskers, and has already enrolled in classes in Lincoln--meaning that as soon as the Aug. 15 deadline passes,
he would be free
to join the Huskers at any time.
That said, the consensus opinion has long been that Starling's Huskers flirtation was simply a ploy for leverage in his contract negotiations with the Royals. That Starling has passed on joining the football program for the start of camp won't do anything to change that consensus. (Nor will
this bizarre tweet
from ESPN baseball analyst Peter Gammons stating that Pelini had "gone off" and "threatened" Starling, an unsourced claim Starling's father
has already denied.)
Meaning that for all the drama -- and with one week to go before Starling's signature is due, there's bound to be more -- the likely outcome remains the same as it ever was, with Starling cashing million-dollar checks to play for his hometown Royals. That's not what Husker fans will want to hear (especially with
the transfer of backup
Cody Green
already limiting the team's depth under center), but until Starling's name actually appears on a Nebraska roster, that's the case.
For more baseball news, rumors and analysis, follow @cbssportsmlb on Twitter or subscribe to the RSS feed.