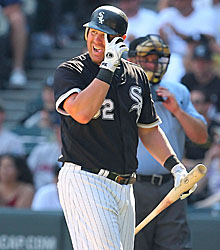 By Matt Snyder
No baseball fan needs to be told how bad
Adam Dunn
has been this season for the
White Sox
. It's been one of the most disappointing individual baseball seasons in memory. His .164/.294/.302 line is almost sickening it's so bad. Fans and media who used to spew venom in his direction have gotten to the point of feeling sorry for him. Dunn's already received a two-game break in playing time to clear his head, but he's going to get another one. And it sounds like it will be longer.
"I'm going to talk to him today or maybe tomorrow about giving him a mental break," Guillen said Sunday (
Chicago Tribune
). "It's the second one because I already gave him one. He swung the bat a little better in Chicago, but last couple days he lost it."
Guillen also seemed to blame Dunn's lack of preparation in the offseason for his poor play this season.
"I think you learn with a cost," Guillen said (
Chicago Tribune
). "You learn what happens. Before, when you have a good career, you do one thing – nothing. And you come out and resolve your problem, fine. But I think he should learn his lesson. He has to stay in shape now. He's not 22 years old anymore.
"The league and people get you," Guillen continued (
Chicago Tribune
). "He has to put himself in shape and come to spring training in shape and stay there. If you don't come to spring training in shape, you get hurt."
There's no telling if it will make a big difference, but it's probably pretty safe to say Dunn's going to work hard in before the start of 2012.
UPDATE:
Well, apparently Guillen changed his mind -- which isn't altogether shocking -- because Dunn is starting at first base Monday night (
MLB.com
via Twitter).
For more baseball news, rumors and analysis, follow @cbssportsmlb on Twitter or subscribe to the RSS feed.