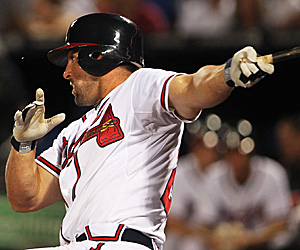 By Matt Snyder
When
Dan Uggla
extended his hitting streak Sunday to 28 games, it was officially time to start paying heavy attention. He's now halfway to Joe DiMaggio's vaunted record. Uggla's hitting .355 with 12 homers, 26 RBI and a 1.140 OPS during the streak, so he's not just hitting a single a game. This week, Uggla returns to Florida, where he spent the first five years of his major-league career. Let's take a look at the pitching matchups in the upcoming series for Uggla on the road against the
Marlins
.
Monday starter: Brad Hand
Hand has allowed 25 hits in 34 2/3 innings this season, so he's pretty tough to hit. Last time out, though, he allowed seven hits in five innings. He does pitch much better at home, though, where he's only allowed eight hits in 18 innings. Uggla is 0-for-2 against Hand in his career, but he faced him earlier this season when he wasn't hitting anything.
Tuesday starter: Clay Hensley
Hensley has given up 28 hits in 34 1/3 innings this year and is coming off a brutal outing in which he couldn't get out of the third inning. He's also given up 15 hits in 16 1/3 innings at home this season. Uggla is 2-for-8 with a home run against his former teammate.
Wednesday starter: Anibal Sanchez
For as good as he was earlier this season, Sanchez has been pretty hittable. He's allowed 141 hits in 144 2/3 innings, but he's been far worse lately. In his last four outings, Sanchez has allowed 34 hits in 25 1/3 innings pitched. He is slightly better at home than on the road, but not by much. Uggla has only faced Sanchez three times, but has a home run to show for it. Of note here: If Uggla gets a hit in all three of the games in this series, he will tie the
Braves
' team record with a 31-game hitting streak.
Marlins bullpen
Uggla is 0-for-11 with six strikeouts against current members of the Marlins' bullpen. It's a small sample, of course, but he might want to get that hit out of the way early in each game of the series.
For more baseball news, rumors and analysis, follow @cbssportsmlb on Twitter or subscribe to the RSS feed.