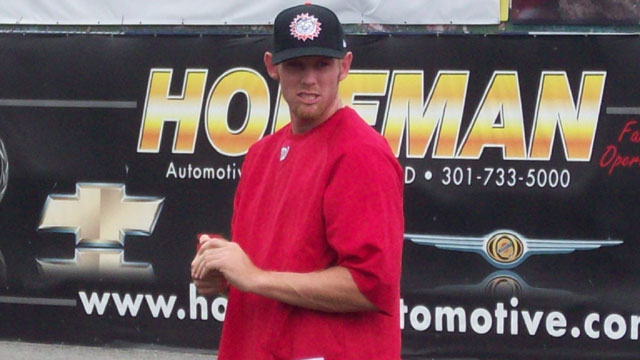 By Brian Stubits
HAGERSTOWN, Md. -- Stephen Strasburg made his return to the mound in game action, throwing 31 pitches and surrendering one run on three hits, including a home run, over 1 2/3 innings for the Nationals' Class A affiliate Hagerstown Suns.
Making his first start since undergoing Tommy John surgery, the Nats phenom passed the important parts of the test: throwing strikes and feeling good afterward. Of his 31 pitches, 25 were thrown for strikes, giving the Greensboro Grasshoppers a heavy load of fastballs.
The first eight pitches were over the plate. The radar gun topped out at 97 MPH on his fastball. That ain't too shabby for a first start since surgery. Before the injury, he was routinely clocked in triple digits.
"I was super excited to get back out there," Strasburg said after the game. "I wanted to go out there and throw a lot of fastballs. That was the real foundation I wanted set and really work on the fastball command. All in all, I was pretty pleased.
"It's a great feeling when you get through the first inning. You just kind of get that itch to go back about there again in five days."
The 23-year-old right-hander hadn't faced a batter in a live game situation since grabbing his right wrist following a pitch to Dominic Brown of the Philadelphia Phillies on Aug. 21, 2010. Strasburg had elbow reconstructive surgery Sept. 3, ending his rookie season with a 5-3 record and a 2.91 ERA in 12 starts, including an unforgettable debut in which he struck out 14 Pittsburgh Pirates.
Since then, Strasburg has meticulously worked through milestone after milestone in a long, lonely recovery. He began throwing a baseball again in February. He started throwing off a mound in May. He began pitching simulated games at the Nationals' spring training complex in Viera, Fla., last month.
He began the outing with eight straight strikes, sitting down the first two with strikeouts. He surrendered a harmless single to right field before getting out of the inning with the next batter. The second inning began with a strikeout looking with a nasty curve before he was taken out of the park to the opposite field by Jacob Realmuto of the Grasshoppers, a Marlins' affiliate.
"Well ya know what? Home runs are a part of baseball," he said. "Looking back on it, I know they were all looking for fastballs. He put a good swing on it. I'm not even going to stress about it."
Strasburg followed that up with another single then a strikeout before he was lifted from the game. He entered the contest with a two-inning limit, and/or a 35-pitch threshold.
His brief outing ended with a standing round of applause from the packed crowd at Hagerstown Municipal Stadium.
Average attendance here is 2,023. Today, 28 years to the day after Jim Palmer made a rehab start here, the place was sold out. Keep in mind this is about 75 miles north of Washington. To say the local buzz around Strasburg has dissipated over this time would be flat out false. The rest of baseball might have forgot a bit about him since being the "most hyped draft pick in history" and subsequent injury, but D.C. hasn't.
"[The anticipation] is definitely built up today," 20-year-old Hagerstown native Brad Kretzer said. "It's a sellout crowd, only standing room left. Even with Bryce Harper it didn't sell out."
The Nationals' other ballyhooed prospect, Harper, played 72 games in Hagerstown before moving on up to Double-A Harrisburg.
Here's the amazing thing about Strasburg: In just two years he has lived up to all of the expectations. Think about it. He made the majors in less than a year. Once there, he electrified Washington and baseball with his fireballs and physics-defying curveballs. You might remember there was serious debate whether or not he belonged in the All-Star Game.
He's also met the bad expectations. That would be the serious arm injuries. Unfortunately, that's why he's here, pitching in a Class A ballpark -- one of the oldest minor-league parks in the country. Many expected/feared this would happen. Nobody wanted it to happen, but thought it might.
But Tommy John doesn't carry the career death sentence it once did. It's still hard to get the stigma of the surgery away from the dreaded prognoses of yesteryear, but guys are coming back better than before these days. Just ask Josh Johnson (most recent injury troubles aside) or Chris Carpenter. Heck, the list is long. "It feels better. It honestly does. I get on top of the ball a lot better," Strasburg said. "I'm able to drive the ball down into the zone a lot better, a lot more efficiently. Before I just wasn't in as good of shape. The velo still isn't there, but it's jumping a little bit more than it did before. I'm right where I want to be physically. I'm pleased."
But perhaps this setback put him on the schedule he should have been on in the first place. Well, not starting in Class A at this point, but still growing in the minors. His ascent to the Bigs was rapid, even if he might have been ready stuff wise.
Barring any set backs (and as of now there don't appear to be any) Strasburg will make another rehab start on Friday, either for the team's affiliate in Potomac or Harrisburg.
"I think they did [rush him]," Kretzer said. "I think it's something you have to think about. He only started pitching in the major leagues last year and he got hurt right away. I think they got to take it easy on his arm. I think it's good he's only pitching two innings today."
Either way, what's done is done. Now it's time for recovery. As first steps in rehab go, this was a solid one. Don't mind the hits, pay attention to the strikes. He was buzzing the ball in the zone the whole outing, as quick as it was.
I'm sure the Nats will take the slow and steady course and D.C. will be buzzing again. In the meantime, they will have to keep Strasburg at bay, sitting back isn't something he's used to.
"Man, that was the toughest part," Strasburg said about handing the ball over after the game. "I at least wanted to go two innings, but that was as far as they would let me go."
He can't get back to the tip-top shape soon enough; for himself, for Nationals fans and for baseball fans.
Here's video of Strasburg warming up before the game in the bullpen.
The Associated Press contributed to this report