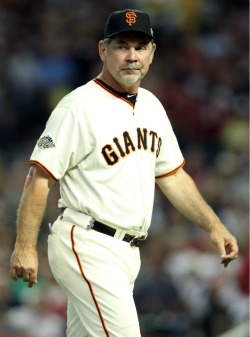 By C. Trent Rosecrans
Giants manager Bruce Bochy wasn't bothered by a sports talk radio host's accusation that he was a "coward," but he wasn't happy with Tony Bruno's racist comment about pitcher Ramon Ramirez.
During Friday's game, Bruno tweeted "gutless #!@&*# Giants. Bochy is a coward for having his illegal alien pitcher hit a guy since might Frisco boys…"
The tweet was quickly removed, but it had already been retweeted and reposted elsewhere.
On Sunday, Bochy took aim at Bruno's attack on Ramirez.
"Forget the remarks about me," Bochy told reporters, including Henry Schulman of the San Francisco Chronicle. "That doesn't bother me. For a guy to make a racist comment like that and have the ear of so many people, that bothers me. I can defend myself as a coward. I don't know if you can defend yourself making a racist comment."
Bruno, a nationally syndicated host, posted a semi-apology on his Facebook page, writing:
"I did remove my post and apologize for my comments regarding illegal aliens. I was angry and on the air and I stand behind my comments that Bruce Bochy is a coward, as are all managers who order pitchers to throw at guys just because their pitchers can't get a guy out. All of you people resorting to name calling are more classless and vile."
Bochy said he'd never heard of Bruno, whose show can be heard on Giants flagship station KNBR from 7 to 10 p.m, weeknights. He also laughed at the suggestion he ordered Ramirez to hit Shane Victorino.
"I guess I called Ramirez on the cell phone when he was on the mound," Bochy said, according to Schulman.
Ramirez, for the record, is from the Dominican Republic. And as all other baseball players that are citizens of another country, is in the United States legally under a P-1 visa.
For more baseball news, rumors and analysis, follow @cbssportsmlb on Twitter or subscribe to the RSS feed.