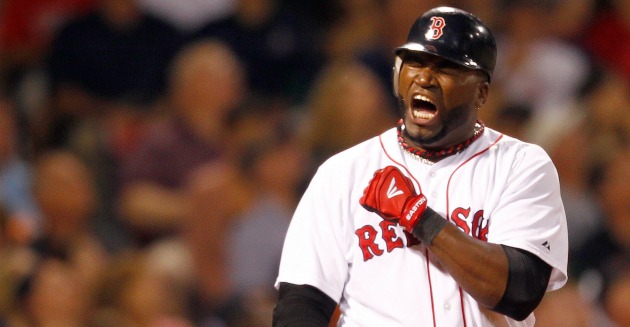 By Evan Brunell
A source close to David Ortiz told ESPN Deportes that the Red Sox DH is privately unhappy that Boston has not approached him with a contract extension.
"David is (too) proud and respectful to say how he feels in public, but the guy feels hurt, upset by the way that he is being ignored by the Red Sox," said the source, in a repeat of a sentiment voiced each of the past few seasons, when Ortiz's future has not been guaranteed with the Red Sox.
"After all he's done here and having a good season, he was at least hoping to be approached by the team to talk about his future," the source said.
Ortiz entered Sunday with a .289/.378/.537 line, enjoying his beast season since 2007. He will be a free agent after the year, working with the Red Sox on a club option year, having completed his four-year, $52 million deal after 2010. In both 2009 and 2010, stories popped up about Big Papi's displeasure with his contract situation. This year is no different, and more dire now that he has no safety net beyond the year.
"The truth is yes and no," Ortiz said before Saturday's game as to whether he was hurt by the lack of discussions. "Yes, because I should be facing a better situation when I'm having a good year. And no because at some point something has to happen and those are things that I can't control."
Ortiz, who has stated in the past he would like to retire with the Red Sox, said no discussions have taken place this season and he is unsure why.
"I don't know what to say exactly about that. It's a question that I get often, and I don't know what to say," Ortiz said. "Maybe they are focusing on something different. ... This sport is a business above all. People know what I can do. Right now I don't see myself in another uniform, but that's not up to me. It will be decided in free agency."
All due respect to Ortiz, it makes no sense for Boston to sign an extension right now. Although Big Papi is enjoying his best season since 2007, he's not all that far off from experiencing a similar year to 2010, when he was a complete zero in April. The year before, he struggled through April and May before kicking into a groove. There's no reason for the Red Sox to get hasty and commit years and dollars to an aging DH who has shown chinks in his armor in recent seasons. If he keeps up his production through the year, the Red Sox will certainly be interested in bringing the slugger back for another year or two. But Ortiz needs to wait until then.
For more baseball news, rumors and analysis, follow @cbssportsmlb on Twitter or subscribe to the RSS feed.