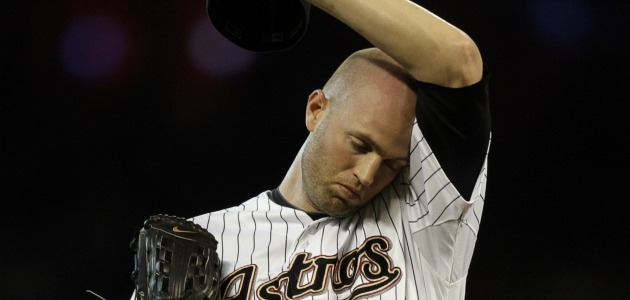 By Evan Brunell

The
Astros
, fed up with
J.A. Happ
's struggles, optioned the starting pitcher to Triple-A in the hopes his head can get screwed on straight.
Happ was the biggest piece in the deal for
Roy Oswalt
at the trade deadline of 2010, with GM Ed Wade getting bedazzled by Happ's 18-8 record in 2009-10, compiled with a 3.09 ERA in 253 1/3 innings scattered over 39 starts and 12 relief appearances. That was a house of cards, though. Happ's performance came with 189 strikeouts and 103 walks, giving up 28 homers and allowing just 26.9 of batting averages fall into play, with league average at 29-31 percent at the time.
Advanced ERA-scaled metrics, xFIP in this instance, said the lefty's ERA over that time frame should have been 4.50. Yet, the
Phillies
-- who eschew sabermetrics yet have stayed in contention despite occasional bizarre decisions -- knew Happ was overrated and sent him packing at his highest value along with two minor leaguers at the 2010 trade deadline for Roy Oswalt. Happ pitched solidly down the stretch for Houston, but those who noticed knew that 2011 was unlikely to be kind.
Indeed. In fact, 2011 has been so unkind that he's underrated, at least compared to ERA and xFIP, which counts only those runs that have been considered at direct fault to to pitchers, where the 28-year-old remains a 4.50-type pitcher. xFIP has held steady in evaluating Happ's performance thus far this year, but he's been lit up over 22 starts for a 6.26 ERA, with his last four starts especially bad, giving up 22 runs, 19 earned for a 8.84 ERA in 19 1/3 innings.
Now, he'll ply his trade in the minor leagues, trying to get back on tract. Unless he makes an unforeseen leap forward, though, Happ remains what he's been all along: a solid back-of-the-rotation starter.
For more baseball news, rumors and analysis, follow @cbssportsmlb on Twitter or subscribe to the RSS feed.