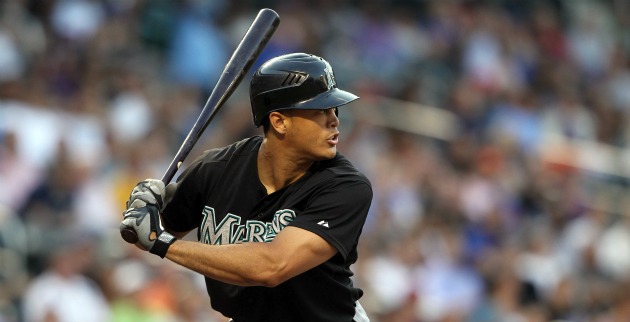 By Evan Brunell

The
Marlins
have been discussing a long-term contract for
Mike Stanton
, the prodigious power-hitter who has cranked 47 home runs just 205 games into his career as a 21-year-old.
The report from the
Palm Beach Post
says that nothing specific in money or years has come up in a discussion, and that an offer would not be made "until next year." Whether that means after the season or during the 2012 season is unclear. Stanton, under baseball's rules, will make the league minimum or near it for his first three years in the majors unless a contract supersedes it. Since the outfielder will only be at 1.118 years of service time after the season, he has two more years at the league minimum to look forward to.
Thus, any long-term deal is going to have that in mind with a very low base salary for years one and two. If the salary jumps up into the million(s) in the first couple of years, it will be to mitigate the risk of years 3-6 at a lower value. Stanton's three arbitration years will also come at a reduced cost. The general rule of thumb is that players operate on a 40-60-80 salary scale in their arbitration years. That is, a player can be expected to make 40 percent of what he could earn on the free-agent market in his first year of arbitration. His second year of arbitration gives him 60 percent value, and so on. So right off the bat, a five-year deal signed for Stanton after the season will buy out his remaining years of team control at a price you would not even come close to seeing on the free-agent market.
The motivation for Florida to do this deal is to lock in cost certainty over the next five years, with a specific dollar amount attached to Stanton for long-term planning. Plus, they can pay out a discount over and above the league-minimum and arbitration years because Stanton is receiving long-term security. While he might be able to make more going through the arbitration process, it is also an unguaranteed process that could see him released after each season at no cost should he lose all value, whether via injury or other reasons.
The
Post
refers to the
Brewers
'
Ryan Braun
's original contract with the Brewers as an example. Braun inked a eight-year, $45 million deal with Milwaukee when he had 0.129 years of service time, mere days apart from Stanton entering 2011. (One year's service equals 172 days.) Sound low? That's because of how cheap Braun is being paid in the first five years of his deal. In the year after signing the deal -- which would have kicked in this season in Stanton's case -- Braun earned a $455,000 salary, followed up by $745,000 the next year and $1 million in 2010. Then, when Braun would have entered arbitration without the deal, his salaries spiked to $4 million for 2011, $6 million in 2012 and $8.5 million in 2013. His deal goes on for two more years after that at a total price of $22 million. The end years are lower, both because of Braun locking in profits early on and earning significantly over the league minimum in years two and three of his deal.
Stanton has a .259/.330/.528 mark this season in 427 place appearances, blasting 25 home runs. If he can boost his average, he can become one of the best players the game has ever seen. Even if not, he'll remain an elite player and will come at a heavy cost to Florida. Stanton will have to chose long-term certainty over exorbitant salaries if both sides are to come to a deal. Otherwise, Stanton could choose to risk that he stays healthy and continues excelling, at which point he would make a significant amount of money through the arbitration process.
For more baseball news, rumors and analysis, follow @cbssportsmlb on Twitter or subscribe to the RSS feed.