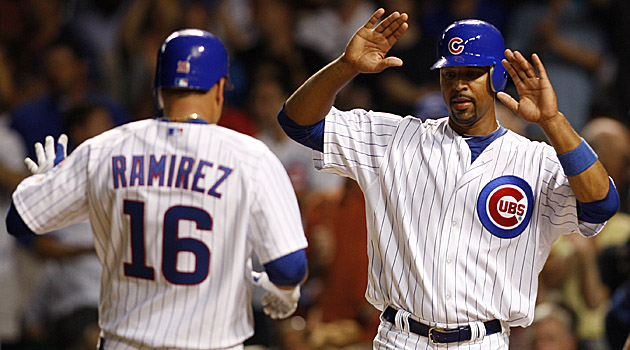 By Matt Snyder
At this time last week, we were busy pouring through rumor after rumor as the non-waiver trade deadline approached. There were a few
Cubs
' veterans we knew weren't going anywhere, despite playing for one of the worst teams in baseball.
Aramis Ramirez
,
Ryan Dempster
and
Kerry Wood
in particular weren't going to waive their respective no-trade clauses. It might seem baffling to some people, but former teammate
Derrek Lee
says it's too great a place to play to want to leave.
"It's not that easy," Lee said (
Chicago Tribune
). "It's easy to look from the outside and say, 'Well, go play on a contender. This team is winning, so why don't you want to go there?' But you build roots in a place.
"Those guys have families. It's not that easy just to pack up and go. And how many cities are there as good as Chicago? You're going to have great crowds there every day, an atmosphere, and also those guys probably want the challenge of turning it around and winning there."
Baby steps:
We've opined in this space several times about the sheer idiocy that are the MLB blackout rules and it appears there might be some ever-so-slight progress. Evidently MLB Extra Innings subscribers in northeast Ohio were all of a sudden blacked out from watching
Pirates
and
Indians
games due to a merger of several local cable providers. For once, Major League Baseball rectified an issue and lifted the blackout. So I guess that's a step in the right direction, but the rules are still absurd. (
Biz of Baseball
)
Remember me?
Wednesday, we posted a video of an apparent
Ichiro Suzuki
fanatic in the
Mariners
crowd, who interfered with play by accident. Well, he was back at the ballpark the following day, once again dressed in full Ichiro garb. (
Super Ichiro Crazy
)
Bat-flavored beer:
In Seattle, a brewing company has made a beer that soaked maple bats in it for three weeks. Interesting idea. Personally, I'm not sure I'd want to try it -- it just sounds weird, no? -- but who knows, maybe it's great. (
ESPN.com
)
Trade bait:
Fangraphs.com
has an excellent flow chart showing all the trades of
Edwin Jackson
, who has been dealt six times (and he's only 27 years old). Roughly 15 players have been traded for Jackson, though it's tough to very accurately say the proper number, as there have been a pair of three-way trades involving him.
Bad signings:
Once you get past the
Yankees
, the
Red Sox
are generally maligned by casual fans for being a huge spender in free agency and just throwing money at players. The truth, however, is that the Red Sox are actually pretty good at developing their own.
Dustin Pedroia
,
Kevin Youkilis
,
Jacoby Ellsbury
,
Jon Lester
,
Jonathan Papelbon
and more came directly from the system. Meanwhile, many free agent signings, like
John Lackey
and
Carl Crawford
, have thus far been a disaster (
ESPN.com
). Maybe Theo Epstein should stop spending so much on external players?
Back off, Tony:
Cardinals
manager Tony La Russa took exception with some comments from
Brewers
fans earlier this week, and I got his back. On this, however, I will not be doing so. He heard a Brewers announcer say the Cardinals throwing at
Ryan Braun
was "bush league" and called said announcer to discuss. I mean, really? The two did "clear the air," so I guess all's well that ends well. (
Milwaukee Journal-Sentinel
)
Chipper return:
Chipper Jones
hasn't been in the starting lineup for over a week. He returned from the disabled list only to come down with a new injury and has been relegated to pinch-hit duty since. He's planning on returning to the lineup Friday, not surprisingly, against the
Mets
. He's hit more homers against the Mets than any other team in his career. (
AJC.com
)
Moose rests:
Royals
rookie
Mike Moustakas
has struggled, for the most part, since his promotion to the bigs. Manager Ned Yost gave Moustakas Wednesday night off to work on his swing mechanics. (
Kansas City Star
)
Alonso at third:
Reds
rookie
Yonder Alonso
projects as a very good major league hitter, according to most scouts, but he's a first baseman by trade. Not sure if you've heard, but the Reds have a
decent
1B. Alonso has been played in left field, but most scouts see him as a bit of a butcher out there. Maybe third base could be a fit, with
Scott Rolen
being out for the next four to six weeks? He's been working out at third recently. (
MLB.com
)
For more baseball news, rumors and analysis, follow @cbssportsmlb on Twitter or subscribe to the RSS feed.