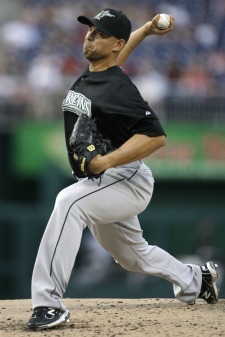 By C. Trent Rosecrans
Quick trivia question -- who is the big leagues' active leader in strikeouts?
It may take you a while to come up with Marlins right-hander Javier Vazquez (well, unless you saw the headline and the picture), whose 2,462 are more than Tim Wakefield (2,121), CC Sabathia (1,949), Kevin Millwood (1,940) and Livan Hernandez (1,918).
That may not be the answer next season, though.
Vazquez tells Manny Navarro of the Miami Herald that this may be his last season in the big leagues.
"I know what I want to do already. I've talked to my family about that and basically this could be my last year," Vazquez said. "This could be it for me. The hunger is still there. But I think God puts my priorities in order. Baseball is probably third right now."
Vazquez signed a one-year deal worth $7 million before the season, his 14th in the big leagues. This season stared out terribly for Vazquez, who gave up seven runs in 2 1/3 innings in his first outing of the season and had a 7.55 ERA through his first eight starts of the season. However, in his last eight starts, he's 4-2 with a 2.13 ERA and the Marlins are 6-2 in those starts.
While Vazquez could certainly help a team next year, he said he's more interested in his three children, ages 8, 6 and 3.
"He's still got good stuff in the tank," catcher John Buck told Navarro. "But unless his son asks him to play another year, he probably will just go home to be with his family."
For more baseball news, rumors and analysis, follow @cbssportsmlb on Twitter or subscribe to the RSS feed.