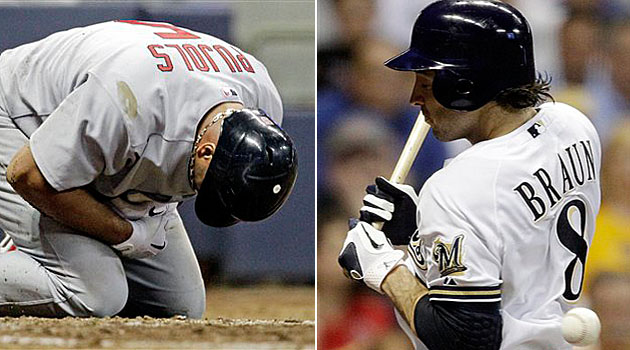 By Matt Snyder
Last year it was the
Cardinals
against the
Reds
in the NL Central. This time around, it's the
Brewers
who seem to have drawn the ire of the Cardinals. Tuesday night, the Cardinals beat the Brewers to move within 2 1/2 games in the NL Central and break the Brewers' long winning streak, but everyone was talking about a pair of hit-by-pitches after the game.
In the top of the seventh inning, Brewers reliever
Takashi Saito
hit
Albert Pujols
in the hand/wrist area. It loaded the bases and was pretty clearly not intentional. Cardinals manager Tony La Russa even said as much post-game, though he also noted he still had an issue with it (via Associated Press).
"Real scary. They almost got him yesterday. There's nothing intentional about it," La Russa said. "That's what all these idiots up there -- not idiots, fans are yelling and yell. Do you know how many bones you have in the hands and the face? That's where those pitches are."
Next half-inning, La Russa left in
Jason Motte
to face
Ryan Braun
. Motte missed Braun on his first pitch, but not on his second try. He was removed after the hit-by-pitch and is the Cardinals hardest throwing reliever. Of course, La Russa says they weren't trying to hit Braun.
"And Braun, we were trying to pitch him in, too, it's just a little stinger," La Russa said (AP). "I don't want to even hear about Braun getting a little pop in the back when we almost lose [Pujols] in several ways."
Cardinals catcher
Yadier Molina
-- who was ejected and
may have spat on the umpire
-- backed up La Russa's story. Brewers catcher
Jonathan Lucroy
had a different spin.
"That's clearly intentional. I mean that's ridiculous," Lucroy said (AP). "There's no way that we were trying to hit Pujols on purpose. You kidding me in that situation? If we wanted to put him on base, we would have walked him. That's ridiculous. We were trying to pitch inside and get a ground ball to third base."
For whatever it's worth, Pujols had no issues with his getting hit, saying "it's part of the game." (AP)
It's hard to not take sides here, because I don't think anyone other than Cardinals fans -- and even some of those would be excluded -- believes La Russa. It appears pretty obvious Motte was left out there to hit Braun and was going to have four chances to do it, not just the two it took. From here, each individual can make the call as to whether or not it was warranted.
Ryno moves on:
After being named the Triple-A manager of the year, Ryne Sandberg was reportedly not even in the
Cubs
"top three or four" choices to manage the 2011 season in the bigs, but he doesn't hold a grudge. Sandberg told the
Chicago Sun Times
that he's moved on and looks forward, not backward. He says he still plans on making it to the majors one way or another. He's currently managing the
Phillies
' Triple-A affiliate.
LoMo visits Fan Cave with a 'friend:'
Last week,
Marlins
outfielder
Logan Morrison
had a highly publicized run-in with a praying mantis in the Marlins dugout, and he later admitted via Twitter that he's afraid of bugs. Tuesday, he showed he was a good sport by visiting the MLB Fan Cave with someone dressed as a praying mantis. (
MLB.com
)
Hard-luck losers:
Beyond the Box Score
took a look at the pitchers with the most losses in MLB history that came while they still threw at least seven innings while allowing three earned runs or less. It might be easier to simply disregard the archaic wins and losses stat, but since it's still mainstream, I'm on board with things like this. You'll find Nolan Ryan, Bert Blyleven and Greg Maddux on the list, among other all-time greats.
Legend of Sam Fuld:
Sam Fuld has been a bit of a cult hero in Tampa Bay since being traded from the Cubs this past offseason, so it was only a matter of time before a promotional poster was made. I have to say, it's pretty hilarious. A spin-off of Legends of the Fall, the Legends of the Fuld poster features Fuld, Chuck Norris and the Dos Equis guy. (
TampaBay.com
)
Use the Force:
The Marlins won on two ninth-inning runs Tuesday night -- which came courtesy of a
Justin Turner
throwing error. Marlins catcher
John Buck
reportedly distracted the
Mets
' second baseman, and Buck credits his first-base coach for employing a "Jedi mind trick." Luke Skywalker would be proud. (
Fish Tank
)
Cody's the answer again:
The 2010
Giants
postseason hero was
Cody Ross
, a very late addition last August via the second trade deadline (using waivers). This season, the Giants were reportedly seeking a center fielder who could lead off, but Ross might again be the answer. He filled both roles Monday and Tuesday. (
SFGate.com
)
MVPs together again:
Joey Votto
and
Josh Hamilton
won the MVPs from their respective leagues in 2010, and they're commemorated together on a bobblehead, as Louisville Bats -- where the two were once teammates (
OMGReds
).
Sad road of Irabu:
Robert Whiting of Slate
chronicles the career of recently-deceased Hideki Irabu in an excellently written story.
Frankrupt: The dissatisfaction with
Dodgers
owner -- at least for now -- Frank McCourt has spawned many different money-making ventures by disgruntled fans, including T-shirts that say "Frankrupt" and a website that begs Mark Cuban to "save the Dodgers." (
LA Times
)
For more baseball news, rumors and analysis, follow @cbssportsmlb on Twitter or subscribe to the RSS feed.