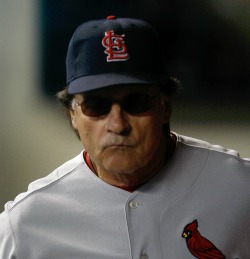 By C. Trent Rosecrans
You know it's a big series for the Cardinals if Tony La Russa is complaining.
This time? The ribbon scoreboard at Miller Park. The Cardinals manager complained that the lights on the scoreboard near home plate were darker when the Brewers were batting than when the Cardinals were batting. La Russa filed a complaint with umpire Gary Darling on Monday night and the Brewers heard from the MLB on Monday.
In the end -- shocker -- it was much ado about nothing.
"We didn't change anything," Brewers general manager Doug Melvin told Tom Haudricourt of the Milwaukee Journal Sentinel. "There was no reason to change anything. What was brought up, nothing had to be changed."
The Brewers are 40-14 at home and 21-35 on the road, so apparently it's all about the scoreboard.
There have been enough whispers about impropriety at Miller Park that Haudricourt said he asked manager Ron Roenicke "point-blank if the Brewers were cheating at home."
"If we are, I know nothing about it," Roenicke responded. "I would think I would be [in the loop.]"

The Brewers beat Chris Carpenter and the Cardinals 6-2 on Monday, giving Milwaukee a 3 1/2-game lead in the National League Central. The Cardinals had eight hits on Monday, but were just 1 for 6 with runners in scoring position.
For more baseball news, rumors and analysis, follow @cbssportsmlb on Twitter or subscribe to the RSS feed.