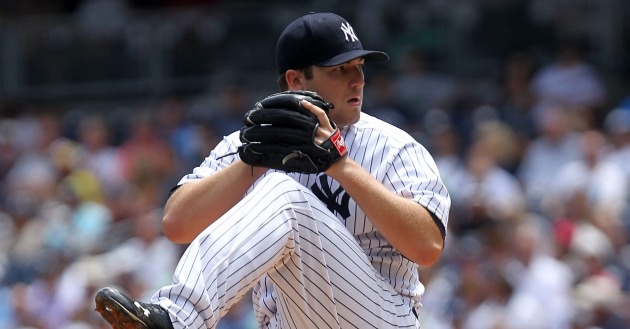 By Evan Brunell

On Tuesday night,
Phil Hughes
(pictured) will draw the ball for the
Yankees
against the
White Sox
. He'll do so as a member of a six-man rotation, as manager Joe Girardi wants to keep
Ivan Nova
in the rotation.
Nova was demoted to the minors after his July 1st start despite posting a 4.12 ERA. He returned to the majors to help out with a pitching crunch on Saturday, allowing just two runs in seven innings against the
Orioles
. That was enough for Girardi, who decided to go with a six-man rotation... albeit not for long, as the
New York Daily News
says.
After this upcoming Monday's off day after the pivotal weekend series in Boston, the Yankees are expected to revert back to a five-man rotation, and Hughes might be the odd man out in favor of Nova.
"Competition is a good thing," Girardi said. "I think it brings out the best in people so, I think they're both working hard, going about their business, approaching the games the way they need to approach it."
Hughes' struggles this year have been well-documented; he turned from an elite setup man in 2009 to a solid starter last season with a 4.31 ERA in 176 1/3 innings. This year, however, the 25-year-old was beyond bombed in his first three starts with decreased velocity on his fastball, running up a 13.94 ERA before he was stuck on the disabled list with a phantom injury to figure things out.
Hughes' velocity recovered and he has made four starts since. While one was a whitewashing, the other three have been solid enough, giving him an overall 5.48 mark since his return. That's not near enough to justify holding onto his spot, not when Hughes could become a big part of the bullpen moving forward. The Tuesday start should have a major influence on the decision, but Girardi noted Hughes' experience in the bullpen when discussing the issue.
"Let's see how it goes through doing what we're doing here," Girardi said. "See how the guys are throwing, and let's see what our needs are. I don't think one thing's going to determine, but you've got to look at what your needs are, who's throwing the ball well and what we need to do. ... If they both throw the ball the way we want them to, then decisions will have to be difficult on what we do."
Nova is expected to draw the ball on Thursday and put forth his own bid for remaining in the rotation.
For more baseball news, rumors and analysis, follow @cbssportsmlb on Twitter or subscribe to the RSS feed.