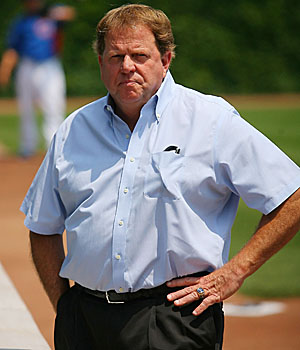 By Matt Snyder
If I didn't know any better, I'd think Jim Hendry was actively trying to get himself fired.
Over the weekend, the Major League Baseball trade deadline came and went. The
Cubs
traded
Kosuke Fukudome
to the
Indians
along with almost $4 million for two minor prospects. That's all they did. This is the second-worst team in baseball, on pace to have its worst season since 1981. And Hendry held tightly to every player with any trade value.
Reports indicated the
Rangers
asked about
Carlos Marmol
. Nope, Hendry's holding onto him, despite the public knowledge that closers not named Hoffman or Rivera usually have a short shelf life and Marmol doesn't have near the stuff he had three years ago.
Reports indicated the
Braves
inquired about
Marlon Byrd
. Nope, can't have him. He's only signed for one more season and is 33 years old.
Reports indicated the
Pirates
had some interest in
Carlos Pena
. Nope, that didn't happen. Pena's a free agent at the end of the season and superstars
Albert Pujols
and
Prince Fielder
could be available as well. The Pirates instead traded for
Derrek Lee
, who isn't near the player Pena is anymore -- unless you ignore everything but batting average.
Hendry also announced to the public that middle reliever
Sean Marshall
and utility backup
Jeff Baker
were untouchable. Marshall is a stud left-handed reliever. He's certainly still young enough to be part of the future core, but what's wrong with seeing what kind of a return he'd bring from a contender? Baker, well, I have absolutely no explanation as to why a general manager would publicly state a backup is not for sale.
Matt Garza
and
Ryan Dempster
may have provided decent returns to varying levels, too, in a weak starting pitching market.
Aramis Ramirez
said he won't waive his no-trade clause, but it's always a possibility that greasing the wheel would have made Ramirez change his mind.
But no, Hendry instead believes the Cubs can contend in 2012. So he's holding onto nearly everyone. Again, this is a team that is currently on pace to go 64-98. What's going to be different? Don't give me injury excuses. Look at the
Phillies
, Braves,
Red Sox
, Rangers,
Giants
,
Yankees
and ... nevermind. Maybe the Cubs will be major players on the free agent market, but therein lies the issue again. Is Hendry going to land Pujols or Fielder? I don't know, but if that's part of the plan, why is Pena still on the roster Monday?
Jose Reyes
isn't going anywhere -- grabbing him could allow the Cubs to move poor defensive shortstop
Starlin Castro
to second or third -- and the starting pitching market is likely to be void of any frontline starters, unless something shocking happens with
CC Sabathia
.
Adam Wainwright
and
Roy Oswalt
might be out there, but one is coming off Tommy John surgery and the other seems to be aging poorly. So Hendry's going to have to trade from the Cubs' uninspiring farm system or just run out virtually the same sad team in 2012. That's an utterly disgraceful plan, one worthy of costing the boss his job.
What should he have done? Well, at the very least he should have said every single player -- save for maybe Castro -- was available and seen what kind of offers came in. Just making guys available doesn't mean you have to trade them. The roster is not close to being competitive, even in a bad NL Central, and a few free agent signings aren't going to change anything. He needs to build the farm system from the ground up and then head into free agency with a plan of building around one or two stars -- like Fielder -- with an emphasis on youth. He also needs to stop backloading deals and crippling the future payroll. Maybe Hendry couldn't have gotten much back for any of the above players I mentioned, but the team as is won't be competing for anything for several years. It was a perfect time to begin the rebuiling process. As far as I can tell, the only thing that prevented that was delusion -- or that a firesale would have been his fault and he doesn't want to admit it.
Now, the Hendry supporters might point to him guiding the Cubs to the playoffs in 2003, 2007 and 2008. Let's remember, however, the Cubs' payroll and baseball's market disparity in this day and age. Prior to Hendry's stint as a GM, the Cubs had a significantly smaller payroll before they were allowed to open the floodgates. This season, the only teams with a higher payroll are the Yankees, Phillies, Red Sox,
Angels
and
White Sox
. What do all those teams have in common in the last 10 years? I'll give you hint, the Cubs don't have one in the last century-plus. In 2010, only two teams had a higher payroll. Same for 2009. The 2008 Cubs might have been the best team in baseball during the regular season, but they choked in the playoffs and Hendry overreacted by completely altering the roster -- headlined by dealing clubhouse favorite
Mark DeRosa
and signing cancer Milton Bradley. It's been all downhill since. I honestly think I'd have fired him after 2009.
The Cubs have over $50 million coming off the books before the 2012 season. If Hendry is still around, he's liable to bury the franchise with more awful contracts -- a la
Alfonso Soriano
,
Carlos Zambrano
,
John Grabow
and Kosuke Fukudome -- in his typical band-aid-on-a-broken-leg approach. There's no question he should be fired. The only question is if Cubs chairman Tom Ricketts has the stones to do so. Ricketts is an incredibly nice man who walks around Wrigley Field shaking hands and asking for feedback. He's publicly supported Hendry and used the injuries excuse. He almost seems too nice to fire anyone.
As a lifelong Cubs fan, I have some feedback for Mr. Ricketts: Quit being so nice.
For more baseball news, rumors and analysis, follow @cbssportsmlb on Twitter or subscribe to the RSS feed.