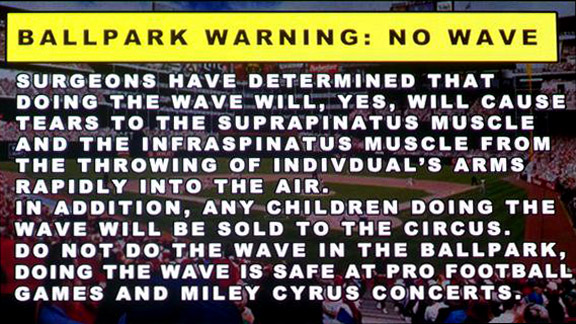 By Evan Brunell

The wave is one of the most hotly contested "traditions" in baseball, with one side crying out that the wave has nothing to do with baseball and the other side just trying to enjoy themselves at the game, which they paid out of their own pocket to see.
The
Rangers
took it one step further, decreeing on the video scoreboard that there are no waves allowed at the ballpark. It's not meant to be taken seriously as you can tell by reading the message the Rangers show fans on the scoreboard (photo above,
from stopthewave.net
). There are no penalties and no official team policy against the wave.
"I was getting lots of emails and Tweets from fans during the game asking me to do something to stop the wave," Chuck Morgan, the Rangers' senior vice president for ballpark entertainment, told ESPN.com. "So I said, 'Let's see if we can have fun with it.'"
The backlash against the wave isn't just limited to Texas, though. The Rockies made a commercial earlier this season in where a fan gets yelled at by Rockies players for starting a wave during a critical moment in a game. Even Rangers reliever Darren O'Day can be found in a video on Rangers.com saying, "Don't distract really good-looking bullpen pitchers … by doing the wave."
StopTheWave.net's Greg Holland, who attends Rangers games, couldn't agree more with the movement. "There is nothing worse … than being stuck in a section with someone who is relentless in trying to get the wave started, especially if they're sitting in front of you," Holland said. "To me, doing the wave is basically giving the middle finger to the guys on the field. You're telling them you don't care about what's going on and that they are not entertaining you."
Despite Morgan's attempts to stop the wave, which Holland said has been working, Morgan says the fans don't really pay attention to the warnings. But he won't stop trying to spread the gospel.
"I'll probably keep doing it until somebody gets so mad they're not going to come to the game anymore," he said. "Or management tells me to stop."
For more baseball news, rumors and analysis, follow @cbssportsmlb on Twitter or subscribe to the RSS feed.