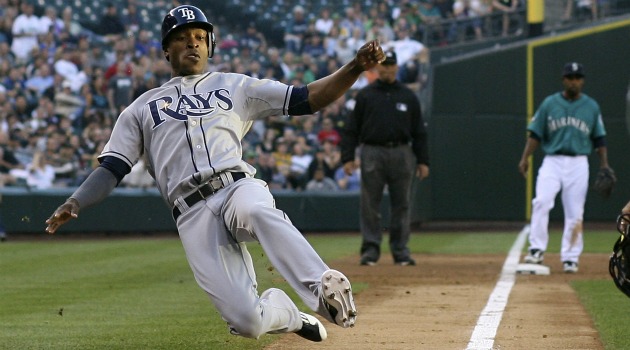 By Evan Brunell


On Sunday, the trade deadline concluded with some teams coming away with the biggest pieces on the market (
Indians
with
Ubaldo Jimenez
,
Phillies
with
Hunter Pence
,
Braves
with
Michael Bourn
), some were able to get complementary pieces necessary for contention, and others continued their rebuilding phase by stocking up on prospects.
But there were other teams who bafflingly stood on the sidelines despite a necessity to make moves. That necessity is what excludes the
Yankees
from this group. While New York could have stood to make some moves, they have the AL's second-best record behind the
Red Sox
. The Yankees don't have any gaping holes, even if some of the band-aids over these holes may not hold through October.
Let's take a look.

What the A's should have done
: Traded two of their outfielders.
GM Billy Beane knows his A's aren't going anywhere this season, and he was in prime position to supplement the team over the next couple of years by dealing any of his three starting outfielders in
Josh Willingham
,
Coco Crisp
and
David DeJesus
. Instead, all three stayed and could potentially leave Oakland after the year. In Beane's defense, he told
Fox Sports' Ken Rosenthal
"ultimately, a trade is a bilateral and not a unilateral process."
What Beane is getting at here is there has to be a second team willing to deal. The new wave of GMs into the game have changed things somewhat, setting prices for players and not budging from them. In other words, trading has gone from a negotiating and bargaining process to one where you peruse the shelves for what's available and have to buy it at sticker price. Still, there were no shortage of outfielders in demand and it's difficult to imagine that Oakland couldn't come to accord with another team for the services of one of the outfielders. Beane did make one deal, sending away reliever
Brad Ziegler
to Arizona, but that's hardly enough.
In Beane's defense, Willingham currently projects to be a Type-A free agent as
MLB Trade Rumors points out
, but he's right on the line and could easily slip into Type-B status. Beane may have taken the stance that he needed to do better than the two compensatory picks Willingham would have fetched as a Type-A free agent, but that's far from a lock. DeJesus will be a Type B, which doesn't preclude a trade. Crisp isn't set for any compensation.

What the Angels should have done
: Acquired a bat, possibly starting pitcher
The Angels bizarrely stood pat at the trade deadline, as owner Arte Moreno shut off the spigots for more money... but is still keeping the GM responsible for putting Los Angeles in this position. Tony Reagins is overseeing a broken-down club with
Vernon Wells
and
Torii Hunter
manning the outfield corners. Scott Kazmir has finally been mercifully released, but L.A. is still on the hook for money.
Somehow, even though Reagins' decisions the last couple of years have defied logic, they were two games out of first on Sunday. This despite a 69-run differential separating the Angels from the
Rangers
, who added two top-flight relievers to its team to gear up for the playoffs. For comparison, there are 57 runs separating Philadelphia and Atlanta, with the Braves six games behind. Even if
Aramis Ramirez
wasn't willing to waive his no-trade, there were other directions L.A. could have gone.
Instead, its fans will now watch the Angels slide into mediocrity, with not much on the horizon other than
Mike Trout
for help. With only
Joel Pineiro
and
Fernando Rodney
slated to be free agents and some hefty arbitration raises on the way, this team will be stagnant for some time.

What the Rays should have done
: Traded
B.J. Upton
and fungible pieces
GM Andrew Friedman
landed in the hospital Saturday for an emergency appendectomy
, but said it didn't affect his work at all Sunday. Perhaps he should have pretended it did, because otherwise this is a poor showing for Tampa. Most notably, the Rays had B.J. Upton available, and despite his .224/.306/.394 batting line, was highly coveted. As a 26-year-old under club control through 2012, Upton (pictured atop the article) would have fetched a very nice price.
There were many discussions revolving around Upton, but obviously nothing came to fruition. But maybe it should have. The Rays need to restock for another move forward, and Upton won't be part of the next stretch of dominance. The Rays have some nice high-minors prospects nearing the majors, but there is still plenty of need for more reinforcements, especially given the value the Rays received from the
Matt Garza
trade in the offseason was mostly tied up in the low minors.
Upton should have been traded. It's hard to imagine his price being the same or higher in the offseason now that there's one less postseason race to handle. Plus, he'll now be looked at as a one-year rental whose contract will probably hit around $6 million. It's not just Upton that could have been dealt, though. While the Rays have a chance to walk away with the wild card if the Yankees collapse, it's the slimmest of chances.

What the Royals should have done
: Traded anyone irrelevant for 2013
The Royals' inactivity at the deadline wasn't surprising only because GM Dayton Moore already indicated he would drive a hard bargain on the pieces he might otherwise be expected to be traded. So
Melky Cabrera
remains in town. Jeff Francouer,
Jeff Francis
,
Bruce Chen
... the list goes on. Moore did trade backup infielder
Mike Aviles
to Boston for a solid return, but that only underscores how K.C. failed here.
Instead of driving a hard bargain on Cabrera, who would have been in major demand once Hunter Pence and Michael Bourn came off the board, Moore decided to keep Cabrera, which in turn keeps the center fielder of the future in Lorenzo Cain down in Triple-A. It's possible Cabrera can keep up this production and the Royals will make him part of the long-term future once he becomes a free agent after 2012, but possible does not mean probable. The Royals received a replacement backup infielder for Aviles in
Yamaico Navarro
who has a chance to be more than that, plus a flier on a minor-league arm. Navarro is far more integral to Kansas City's bright future than Aviles is, just like whatever Cabrera or any of these other players might have fetched are more important than the incumbents by default.
Even when the Phillies, Braves and
Pirates
closed up shopping by dealing for other outfield arms, other teams could have still used upgrades. It's hard to imagine offers weren't there for Cabrera, nor that some teams wouldn't have liked a lefty in the back of the rotation the caliber of Francis or Chen. And Francouer, for all his warts, has a reputation as a fast starter for a new team, plus he can hit left-handers well. But instead, he's going to be in Kansas City sucking up valuable playing time with no clear benefit to the Royals.

What the Reds should have done
: Improved team
The Reds were a feel-good story last season, winning the division and playing baseball in October in Cincinnati for the first time since 1995. They looked like a team to beat entering 2011, but so far are comfortably in fourth place in the NL Central, winning on Sunday to push their record to 53-55 and edge closer to third and second place.
The Reds, lacking a bona fide ace, refused to part with the assets needed to acquire Ubaldo Jimenez despite no shortage of pitchers that profile as Nos. 3 or 4 starters in the majors and a healthy farm system. Fine, sometimes pitching depth with no discernible top-end talent can still end up a good thing. Injuries always strike, and there's a chance Edinson Volquez figures things out or
Homer Bailey
reaches his ceiling. But the Reds did absolutely nothing, including refusing to trade catcher
Ramon Hernandez
to the
Giants
, who would have been more than willing to send pitching or other help to the Reds. Top prospect Devin Mesoraco is probably ready, right now, to outproduce Hernandez.
And yet, Hernandez, plus every single other tradeable commodity, remained. The Reds didn't lift a finger to bring in outfield help or to shore up the left side of the infield, never mind decline to go big for an ace pitcher. It's a disappointing result for a team and a fanbase that knows October is possible again and could have used an injection of both talent and the mental optimism that would have come along with a trade.
We only looked at five teams and excluded the
Cubs
. But never fear,
we have more on the Cubs' shocking futility
at the trade deadline, plus here is what I wrote about the Cubs' performance at the deadline in the
trade deadline winners and losers
article:
You will hear much more on Monday [night] about the Cubs' massive failure at the trade deadline thanks to GM Jim Hendry, who really should be fired on the spot. But while we're here, we might as well recap the Cubs' situation. That situation is a 42-65 record, which is just a few losses away from a 100-loss pace. The Cubs are loaded with unseemly contracts, ranging from the obscene (Alfonso Soriano) to the bad (Carlos Zambrano) to the unnecessary (John Grabow).

And yet, not only was Hendry content not to move any pieces but he was fine encouraging Aramis Ramirez to stay in town. He was fine ruling out the trading of a backup platoon infielder in Jeff Baker. (Read that last sentence again.) The only player Hendry parted with was Fukudome, and he never had fans in the front office and was a lock to leave after the season, anyways.

Instead of trying to set the Cubs up for future success, Hendry seemed paralyzed by which direction to go and while choosing to become buyers would have been ludicrous, it would have been a more palatable direction than just staying pat. Of course, the Cubs aren't flush with a deep farm system, especially after trading for Matt Garza. So Hendry's stuck pretending to be a contender for what, at least from this side of things, seems to be nothing more than a desperate attempt to save his job by pretending his team is close to contention and does not need a fire sale -- a fire sale that would have been entirely Hendry's fault.
For more baseball news, rumors and analysis, follow @cbssportsmlb on Twitter or subscribe to the RSS feed.