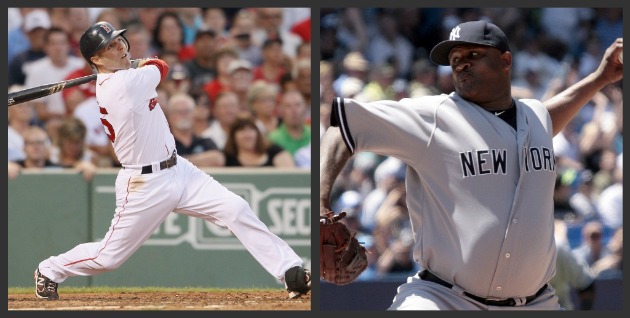 By Evan Brunell
Now that the trade deadline has passed, July is in the books. That means it's time to take a look at the best hitter and pitcher of the month as voted by CBSSports.com experts. The voting wasn't close, with the batter of the month in
Dustin Pedroia
and pitcher of the month in
CC Sabathia
walking away with five of six possible votes each.
July's Best
Expert
Batter
Pitcher
Knobler
Pedroia
Sabathia
Miller
Pedroia
Sabathia
Brunell
Pedroia
Sabathia
Rosecrans
Freeman
Sabathia
Snyder
Pedroia
Holland
Fantasy
Pedroia
Sabathia
Pedroia was a one-man wrecking crew in July, helping push Boston to a 20-win July, the most in
Red Sox
franchise history. Pedroia racked up statistics that would make your eyes pop. On the year, he's walking at a rate that's enabled him to post a .406 OBP and is enjoying the best power season of his career outside of last year, which was cut short due to injury. In fact, Pedroia got 2011 off to such a slow start, he was concerned that his foot was the culprit. After getting it checked out and his fears alleviated, Pedroia went off.
In the same division, but roughly 202 miles south, CC Sabathia was busy shutting down opponents left and right as the
Yankees
continue to hang tough in the AL East. Whether they can continue to do that or not without making a trade-deadline deal remains to be seen. If Sabathia can keep up his dominance that has vaulted him into being a concrete contender for the AL Cy Young, the Yankees may not have needed any upgrades. Sabathia is setting himself up for a nice payday after the year, when he can opt out of his contract. The Yankees will gladly tack on a couple of years the way Sabathia has been going.
Past players of the month:
April
|
May
|
June
Batter of the Month
Danny Knobler
Scott Miller
Dustin Pedroia, Red Sox
The Red Sox had the best July in their history, at 20-7. I'm not sure Pedroia had the best July in Red Sox history, but he had to be close, with a .411 batting average, and eight home runs, which tied him for second in the majors. And just to make sure he won, he had the go-ahead hit in Boston's win over the White Sox on July 31.
Dustin Pedroia, Red Sox
I'm a sucker for hitting streaks. Others maybe had gaudier numbers this month, but for Pedroia to bang out that 25-gamer while helping to keep Boston atop the AL East, that's impressive. Especially against great pitching and in the pressure of the AL East.
Evan Brunell
C. Trent Rosecrans
Dustin Pedroia, Red Sox
Pedroia made Ted Williams proud with a .411 batting average to go along with a .723 slugging percentage that even Jose Bautista would be jealous of. After starting the season poorly and expressing concern that a screw in his surgically-repaired right foot was affecting him, Pedroia has been scorching hot. Now, he's making a case to be considered for the AL MVP with a 6.6 Wins Above Replacement (which counts fielding) mark on the season -- Bautista is the only hitter ahead with a 6.8 figure.
Freddie Freeman, Braves
You could pick one of three Red Sox players who had a fantastic month -- Dustin Pedroia, Jacoby Ellsbury and Adrian Gonzalez were all worthy, but they almost cancel each other out. Instead of being one of many on a team having a great July, the Braves rookie stepped it up when his teammates were falling by the wayside. This month alone, the Braves put Chipper Jones, Brian McCann, Jordan Schafer and Nate McLouth on the DL as Freeman slugged his way to a .362/.433/.600 month. He added six homers and 18 RBI, leading the Braves to a 16-10 record in July.
Matt Snyder
Fantasy -- Al Melchior

Dustin Pedroia, Red Sox
Pedroia got at least one hit in every game but one during the month and 14 times he recorded a multi-hit game. His average jumped almost 40 points, his OPS over 100 and he displayed power and speed -- with eight home runs, 22 RBI and six steals. The guy who was hitting .240 with a .683 OPS at the end of May is a distant memory and Pedroia's climbing back into MVP territory.

Dustin Pedroia, Red Sox
July was a good month for Fantasy second basemen, with Ben Zobrist, Dan Uggla and Michael Cuddyer and others upping their production, but none was more productive than Pedroia. In fact, Pedroia had the highest value of any player, regardless of position, in both Rotisserie and Head-to-Head formats for the month. With a .411 batting average, in addition to 17 extra-base hits and five stolen bases, there may not have been a more balanced scoring threat in Fantasy than the Laser Show.

Pitcher of the Month
Knobler
Miller
CC Sabathia, Yankees
You can argue that the Yankees should have traded for a starting pitcher at the deadline. You can't argue that they needed an ace, because Sabathia proved once again that they already have one. He also proved that he deserves a spot in the debate over who is the best pitcher in the game, with a 4-1 record, a 0.92 ERA and 50 strikeouts in 39 innings.

CC Sabathia, Yankees
Guy narrowly misses a no-hitter wearing a Yankees uniform, how can you go wrong? Sabathia is rockin' right now: A 0.92 ERA and a 0.79 WHIP in five starts. One game to win as we speak, he's my guy (if, ahem, Verlander isn't available).

Brunell
Rosecrans
CC Sabathia, Yankees
Sabathia was a beast to reckon with in July, racking up a 4-1 record while posting a miniscule 0.92 ERA, supported by a 2.15 xFIP that ties him for the best mark in baseball in July, along with Clayton Kershaw and Zack Greinke. Facing the Indians, Rays, Blue Jays and Mariners isn't a creampuff schedule, and he was able to minimize home runs and strand baserunners at a high rate, as well as go deep into games with his 39 innings pitched near the top of the leaderboards.
CC Sabathia, Yankees
It's really hard to go anywhere else (perhaps Clayton Kershaw or Daniel Bard), but among those with 20 innings pitched this month, none had a lower ERA (0.92) or more strikeouts (50), and Sabathia also had the second-lowest WHIP (0.79). Here's how good he was -- of his five starts this month, in his worst outing, he went eight innings, allowed five hits and two runs, and struck out eight in a loss to the Rays on July 21.

Snyder
Fantasy -- Melchior

Derek Holland, Rangers
I was about to pick CC Sabathia, but note Holland's three shutouts during the month of July, which overwhelmed me. No one had more than one shutout in either April or May. Cliff Lee had three shutouts last month, but he was my pick then and Holland's my pick now. Only Lee and Holland have more than three shutouts this season and only two others -- James Shields and Jason Vargas -- have had three all season. Holland did that in his past five starts.
CC Sabathia, Yankees
Sabathia is following in his perennial pattern of heating up in the second half, as he had a scorching-hot July. He led all qualifying starters with a 0.92 ERA and 0.79 WHIP for the month, and not coincidentally, only Greinke had a higher strikeout per nine innings rate. Sabathia also benefited from some apparent good luck, as opponents hit only .218 on balls in play against him (despite mediocre line drive and popup rates), but even so, he helped himself enough to outproduce Kershaw and Verlander.

Danny Knobler and Scott Miller are Senior MLB Writers; Evan Brunell, C. Trent Rosecrans and Matt Snyder are Eye on Baseball Bloggers; Al Melchior is a Fantasy Data Analyst and Scott White is a Fantasy Writer.

For more baseball news, rumors and analysis, follow @cbssportsmlb on Twitter or subscribe to the RSS feed.