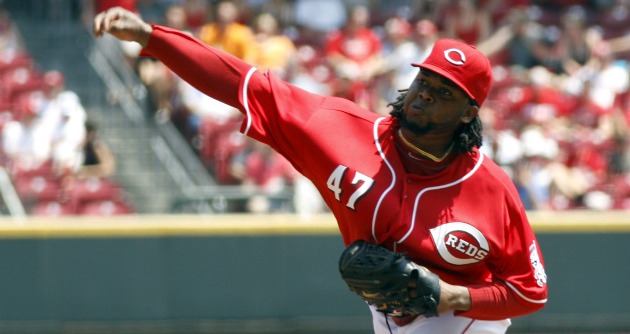 By Evan Brunell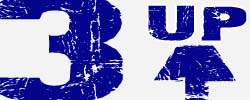 Johnny Cueto, Reds
: Cueto spun a gem on Sunday, finally qualifying for MLB leaderboards. Now that he's qualified, he boasts baseball's lowest ERA at at a scant 1.74, going the distance for a complete-game shutout, allowing three hits and one walk, while striking out six. People have been waiting for a breakout for Cueto for years, and while he's putting together the best season of his career, he's also been inordinately lucky, limiting home runs and allowing just 23 percent of batted balls to fall in for hits, compared to the league average of 29 percent. Not that his fantasy owners (me) are complaining.
Raul Ibanez, Phillies
: Ibanez is an incredibly streaky hitter, being a valued member of the Philadelphia lineup in both May and July, but an albatross in the other two months. That doesn't bode well for August, does it? Anyways, Ibanez blasted two home runs against the
Pirates
, the latter blow tying the game in the bottom eighth before Philly walked off in the 10th. His four RBI were 2/3s of Philadelphia's total, and boosted his overall line to .247/.293/.434 which tells you how anemic he was in April and June.
Joe Saunders, Diamondbacks
: Saunders is on fire, throwing 7 2/3 innings of a victory to even his record up at 8-8. He allowed just two runs, walking none and striking out three. This is part of a larger pattern for Saunders, who was roundly criticized upon his trade to Arizona last season for
Dan Haren
. Saunders has found the senior circuit to his liking, posting a 3.56 ERA despite pitching in a hitter's park and has pitched 16 2/3 innings of a possible 18 in his last two starts. In July, Saunders didn't allow more than three earned runs in his six starts, a big reason why Arizona has stayed in playoff contention.
Honorable mention
:
Justin Verlander
came oh-so-close to his second no-hitter of the season, not his first flirtation with that honor. Instead, he ended up
holding on for the win in what turned into a crazy game
.
---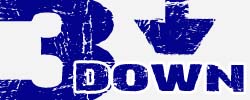 Tommy Hanson, Braves
: Hanson didn't exactly get hit hard, but he give up three runs in six innings. Good enough for a quality start, but despite striking out seven, he also walked three. The start means Hanson has given up 18 runs in his last 23 1/3 innings, comprised of four starts. For comparison, prior to July, the most runs Hanson had ever given up in one month alone, never mind four starts, was 10, accomplished twice in April and May before dropping to six earned in June over four starts. So that should illustrate both how good Hanson has been and the rough stretch he's entered, which has spiked his ERA to 3.13.
Jake Westbrook, Cardinals
: Westbrook took a perfect game into the sixth inning, but coughed up a walk to
Koyie Hill
-- the No. 8 hitter -- with one out in the sixth. The wheels came off after that, and when it was all said and done, Westbrook had given up three hits, three walks and struck out three in six innings, allowing four earned runs. Every single one of those hits, walks and runs came in the sixth. That's one way to blow up a no-no.
Trade deadline losers
: The
Dodgers
,
Orioles
and
Cubs
were colossal losers at the trade deadline. The Dodgers traded away a potential high-impact bat for three organizational guys. The Orioles' entire season is officially a loss, and the Cubs incomprehensibly stood pat.
Read more here, as well as who won the trade deadline
.
For more baseball news, rumors and analysis, follow @cbssportsmlb on Twitter or subscribe to the RSS feed.