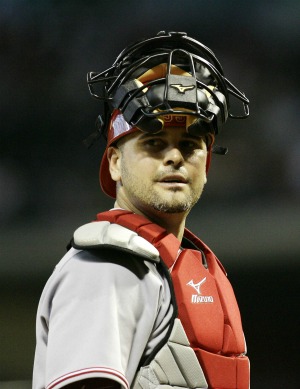 By C. Trent Rosecrans
The Reds were just swept by the Mets in Cincinnati and welcome the defending champions to Great American Ball Park this weekend, but general manager Walt Jocketty told reporters the team still considers itself a buyer.
"We are not selling," Jocketty told reporters, including MLB.com's Mark Sheldon.
The Reds enter Friday in fourth place in the National League Central, 6 1/2 games behind Milwaikee and five games behind both Pittsburgh and St. Louis. The Reds have six games left with the Pirates and three each with the Brewers and Cardinals, but just 19 of their remaining 54 games are against teams with winning records, and only six games in August are against teams currently with a winning record.
Even if the Reds do consider themselves still in the race despite the mountain ahead of them, that doesn't preclude a trade at the deadline that sends off a member of their roster.
The Giants are reportedly interested in Reds catcher Ramon Hernandez, a free agent after the season. Jocketty said he hasn't listened to offers for Hernandez -- yet.
"I haven't no, and I don't know if I would," Jocketty said. "I still think he's a guy that can help us with this year. I think his value is greater to us now than if we were to move him. You're not going to get the value in return for him that he gives our club. That's why we would hold on to him."
Of course, the Cardinals had no plans on moving Colby Rasmus, either. At this time of the year, anything a general manager says should be taken with a grain of salt -- it can always be a smokescreen or something he wants other to hear. Even if the Reds are buying and not selling, that doesn't necessarily rule out a Hernandez deal.
Hernandez, 35, is having a fantastic season offensively for the Reds, hitting .308/.368/.500 with 10 home runs. That's a vast improvement over Giants catcher Eli Whiteside (.225/.312/.370) and Chris Stewart (.211/.294/.276).
And as good as he's been, he's expendable because the Reds not only have one of the game's top catching prospects, but that prospect is knocking down the door of the majors. Devin Mesoraco is hitting .305/.376/.496 with 10 home runs and 59 RBI at Triple-A Louisville. The team also has veteran Ryan Hanigan at the big-league level, who is a good defensive catcher and under contract through 2013 for just $3.25 million over the next two seasons. Hernandez is a free agent after the season for the Reds.
But if the Reds do deal Hernandez to the Giants, they may wait until right at Sunday's 4 p.m ET deadline, as Cincinnati hosts San Francisco all weekend and wouldn't want to a lineup that had Hernandez in it instead of either Whiteside or Stewart. Hernandez has also caught every inning Sunday's starter, Johnny Cueto, has thrown this season. The teams play at 1:05 p.m. ET on Sunday.
Henry Schulman of the San Francisco Chronicle tweeted the Reds want pitching in return for Hernandez -- and a San Francisco official said "That, we got a lot of." Keep in mind the Reds could likely get compensation for Hernandez if he left as a free agent. One name to keep an eye on, left-hander Eric Surkamp of Double-A Richmond. Surkamp is 8-3 with a 2.05 ERA and 140 strikeouts in 114 innings for the Flying Squirrels. He's also a Cincinnati native and a graduate of Moeller High School, the alma mater of former Reds Barry Larkin and Ken Griffey Jr.
For more baseball news, rumors and analysis, follow @cbssportsmlb on Twitter or subscribe to the RSS feed.