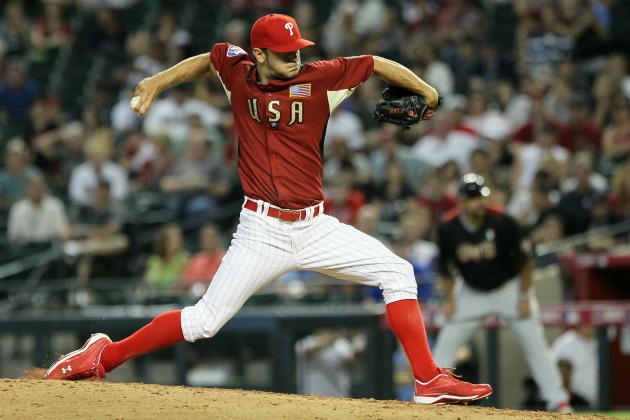 By C. Trent Rosecrans
Hunter Pence will now be a Phillie, but who are the newest Astros?
Well, they're not Astros yet, but the newest members of the Houston farm system give a jolt to a system ranked No. 26 in baseball by Baseball America before the season (and 30th in each of the two previous years). Here's a closer look at the three players the Astros will get in return for the All-Star outfielder in addition to a player to be named:

RHP Jarred Cosart: The 21-year-old from the Houston area wowed everyone in attendance at the Futures Game in Phoenix this month. His fastball was clocked at 98 mph as he had a pair of strikeouts in a perfect eighth inning of work for the United States team. The 6-foot-3 right-hander has a good curveball to go with the electric fastball. At high Class A Clearwater, he's struck out 79 and walked 43 in 108 innings and has a 9-8 record with a 3.92 ERA. He's seen his walks skyrocket this season after walking just 23 with 102 strikeouts in his first two pro seasons. The Phillies drafted him in the 38th round in 2008, but it's not because he was a 38th-round talent. Every team seemed to expect him to pitch at Missouri, and that's what he told them. But the Phillies drafted him and offered him a $550,000 bonus and he took it. He has a very high ceiling and a lot of potential, but he still needs a lot more polish, which is why he's in Class A. Baseball America ranked Cosart the No. 43 prospect in baseball in its midseason rankings.
1B/OF Jonathan Singleton: Ranked the Phillies' No. 2 prospect at the beginning of the season by Baseball America, Singleton doesn't turn 20 until September. At 6-foot-2, 225 pounds, Singleton has the potential for a ton of power. So far this season he's hitting .282/.386/.411 at high Class A Clearwater with nine home runs and 47 RBI in 92 games. He's also show a good approach at the plate and the ability to take a walk, walking 56 times this season. He has struck out 83 times, though. Singleton has played some left field, but he's much better suited to first base. Baseball America ranked Singleton the No. 41 prospect in baseball in its midseason rankings.
RHP Josh Zeid: Zeid, 24, is 2-3 with a 5.65 ERA at Double-A Reading, striking out 56 and walking 27 in 63 2/3 innings. A former Vanderbilt and Tulane pitcher, Zeid dominated the South Atlantic League last year, but was one of the oldest players in the league, going 8-4 with a 2.93 and 111 strikeouts on 107 1/3 innings. Although he's started 38 games in the minors, he projects as a reliever if he gets to the majors. Since moving to the bullpen at Double-A, he has 24 strikeouts in 16 innings, while allowing just 10 hits. He pitched in the Arizona Fall League last season and made the Rising Stars Game, the All-Star game in the fall league.
For more baseball news, rumors and analysis, follow @cbssportsmlb on Twitter or subscribe to the RSS feed.