By C. Trent Rosecrans
We interrupt the trade talk for the best story you'll see here today.
It started last night when 10-year-old Lily Anderson sang the National Anthem before Thursday night's Braves-Pirates game. Anderson sang on behalf of the Rally Foundation for Childhood Cancer Research. She's currently undergoing treatment for a relapse of Nueroblastoma.
After her rendition of the National Anthem, she received the longest standing ovation of the season at Turner Field, and certainly deserved it. Check it out:
If that's not enough for you, the story gets better.
After Anderson hugged her mom and talked to Brian McCann, a spokesman for the foundation, Braves backup catcher J.C. Boscan, up because McCann is on the disabled list, told McCann him he'd met Anderson a year before.
Last season, Boscan met Anderson at Triple-A Gwinnett when she visited the dugout for autographs. She gave him a bracelet that said "Anderson Power, pray for Lily." Not only did Boscan put it on, he hasn't taken it off since. He showed it to her on Friday.
From Carroll Rogers of the Atlanta Journal-Constitution:
"Mac told her, 'Do you remember this?' and she got so excited," Boscan said. "Her mom started crying again. It was emotional."

Boscan said he wears the bracelet day and night to remind him of those undergoing hardships.

"There are things outside of baseball," said Boscan, who hopes to keep in touch with Anderson now. "Sometimes we need to think of those people and have them in our prayers, especially little girls or little boys like that who are suffering from a disease. I think it's the right thing to do."
Check out his photo from spring training, where Boscan is wearing a green bracelet that I assume is from Anderson: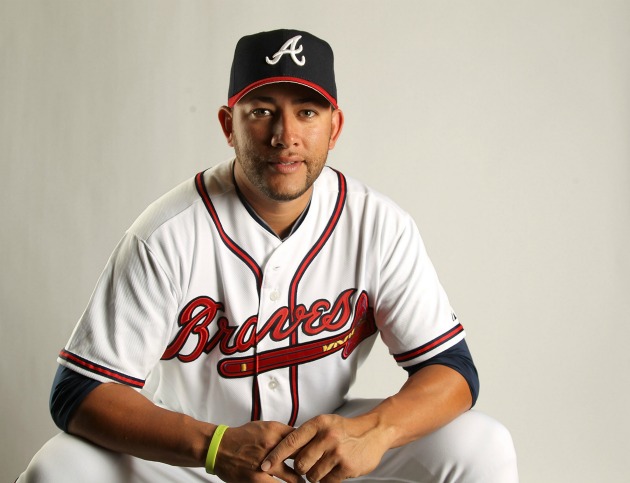 For more baseball news, rumors and analysis, follow @cbssportsmlb on Twitter or subscribe to the RSS feed.