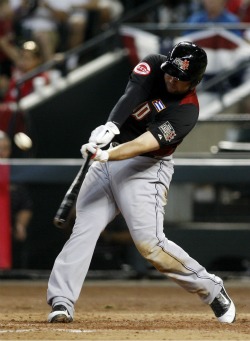 By C. Trent Rosecrans
The trade deadline has increasingly become about prospects. A team selling needs to buy its future, and nothing screams future like prospects. Gone are the days that a fan base doesn't even blink at trading a young John Smoltz for Doyle Alexander -- even the buyers value their prospects more than ever now. No team wants to make the mistake the Braves made in 2007 when they sent Neftali Feliz and Elvis Andrus to Texas for a rental like Mark Teixeira.
However, that didn't seem to stop the Giants from taking that chance with right-hander Zach Wheeler, the prospect that triggered Wednesday's trade of Carlos Beltran from New York to San Francisco.
Wheeler, 21, is 7-5 with a 3.99 ERA at high Class A San Jose this season. Wheeler was the Giants' first pick (sixth overall) in the 2009 draft out of a Georgia high school. Baseball America had him rated as the Giants' second-best prospect coming into the season behind Brandon Belt.
Here are some other prospects that may play a large role in whether a deal gets done or not by Sunday.
1. Yonder Alonso, Reds: The Reds raised eyebrows when they drafted Alonso in the first round in 2008 because of Joey Votto -- and that was before Votto had an MVP under his belt. Alonso has been playing left field in the minors, but is truly a first baseman and will have more value there than anywhere.
The Reds called Alonso up to the big leagues on Tuesday, but he may not want to rent a place in Cincinnati quite yet. Alonso has been mentioned as a potential replacement for Todd Helton at first base for the Rockies if the Rockies pull the trigger on an Ubaldo Jimenez trade.
Alonso was hitting .296/.374/.486 with 12 homers and 56 RBI in 91 games at Triple-A before his call-up. In his first big-league at-bat of the season on Tuesday, Alonso doubled as a pinch hitter. Alonso picked up six hits in 22 games at the end of last season, but appeared mostly as a pinch-hitter with the Reds chasing the pennant and having an MVP in the lineup.
2. Robbie Erlin, Rangers: The left-hander is 5-2 with a 4.32 ERA at Double-A Frisco this season after dominating high Class A in his first nine starts of the season.
Erlin doesn't have overpowering stuff, but is extremely polished for a 20-year old. The Rangers drafted Erlin in the third round in 2009 and gave him over slot money to sign.
Baseball Prospectus' Jason Parks noted that Erlin may not be the best fit for Rangers Ballpark because of his flyball tendancies. He also noted the team's first-rounder in 2011, Kevin Matthews, is similar to Erlin. Erlin's stuff projects much better to a National League team, Parks noted, especially a team like San Diego in a pitcher's park that can help out a flyball pitcher (see Harang, Aaron). And it just so happens, the Padres have exactly what the Rangers need -- bullpen help.
3. Jesus Montero, Yankees: Montero's name isn't quite as hot this year as he was last season when the Yankees were hot in the Cliff Lee sweepstakes and later in talks for Joakim Soria. But make no mistake about it, every team the Yankees call will bring up Montero quickly.
There are questions about where Montero will play in the future -- if he's a catcher, first baseman or DH -- but there are no questions about his bat. Montero, in his second year at Triple-A, has shown a drop in his slugging, but a .291/.350/.444 line with 10 homers and 47 RBI in 80 games is nothing to sneeze at, especially if he can catch.
4. Jonathan Singleton, Phillies: Like Alonso, Singleton is blocked by a superstar at first base. Not only is Ryan Howard an established star, he's also signed through 2016.
The Phillies are reluctant to deal top prospect Domonic Brown, but are open to offers for Singleton because of the Howard factor. Just 19, Singleton is hitting .284/.386/.413 with nine home runs and 47 RBI for high Class A Clearwater. Last season he was the youngest regular in the South Atlantic League and had the third-highest on-base percentage (.393) and fourth-best slugging percentage (.479).
5. Addison Reed, White Sox: Here's an interesting one -- the White Sox are still hanging around the race and with a victory over the Tigers on Wednesday, Chicago is just 3 1/2 games out of first place in the division and 1 1/2 games behind Cleveland for second. The White Sox also upgraded their bullpen on Wednesday, adding Jason Frasor as well as minor leaguer Zach Stewart. Stewart made three starts for the Blue Jays, but has been used both as a starter and a reliever during his professional career.
Reed, a right-handed reliever, throws in the mid-90s and has a very good slider, projecting as a solid reliever and maybe future closer. However, minor-league relievers aren't as highly valued as any other position, meaning the White Sox may not get much for him straight up, but he would be a valuable add-in.
Reed, 22, was a closer for San Diego State behind Stephen Strasburg and has struck out 87 batters in 59 innings this season, pitching in four levels. He's currently at Triple-A Charlotte, where he's made one appearance.
For more baseball news, rumors and analysis, follow @cbssportsmlb on Twitter or subscribe to the RSS feed.