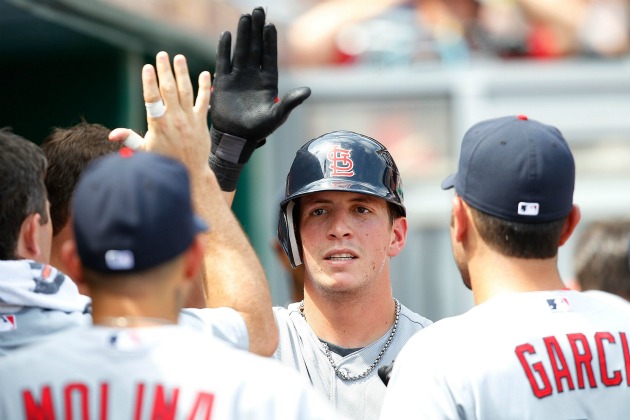 By C. Trent Rosecrans

The deal that sends
Colby Rasmus
from Tony La Russa's doghouse to Toronto is done, according to
Joe Strauss of the St. Louis Post-Dispatch
.
It's a three-way deal that was set in motion when the
Blue Jays
sent starter
Edwin Jackson
and
Mark Teahen
from the
White Sox
to Toronto for reliever
Jason Frasor
and minor-league reliever Zach Stewart. And then the
Cardinals
got involved. When the dust cleared, here's what went down:
Blue Jays get
: OF Colby Rasmus, 3B/OF Mark Teahen, LHP
Brian Tallet
, RHP
P.J. Walters
Cardinals get:
RHP Edwin Jackson, RHP
Octavio Dotel
, LHP
Marc Rzepczynski
, OF
Corey Patterson
, three players to be named, cash
White Sox get:
RHP Jason Frasor, RHP Zach Stewart, LHP
Trever Miller
A free agent after the season is Jackson, who is 7-7 with a 3.92 ERA in 19 starts for the White Sox. He was redundant in the White Sox rotation that had six starters for five spots.
The Cardinals have been shopping Rasmus. who has clashed with his manager and the rest of the coaching staff. Rasmus fits Alex Anthopoulos' M.O. -- young, talented and disgruntled. Last year, Anthopoulos acquired Braves problem child Yunel Escobar. St. Louis needed help in the rotation and bullpen and this move would address both needs. St. Louis also has Jon Jay to replace Rasmus. Jackson can slide into the rotation for the Cardinals, moving Kyle McClellan back to the bullpen, which is strengthened by the additions of the right-handed Dotel and lefty Rzepczynski.

The move makes sense for the White Sox, who need help in the bullpen. The right-handed Frasor has a 2.98 ERA in 42 1/3 innings this season, striking out 37 and walking 15. Frasor is a free agent after the season.

Stewart was ranked No. 5 on the Blue Jays' Top 10 prospect list by Baseball America before the season. The right-hander made his big-league debut earlier this year and started three games for the Blue Jays, going 0-1 with a 4.86 ERA. He's 5-5 with a 4.20 ERA at Double-A this season. He was the key piece in the Scott Rolen deal with the Reds two years ago.
FoxSports.com's Ken Rosenthal added in a tweet that the White Sox have also placed Jon Danks and Gavin Floyd on the market.

The White Sox also called up Alexander De Aza, who will start today in center field.
For more baseball news, rumors and analysis, follow @cbssportsmlb on Twitter or subscribe to the RSS feed.