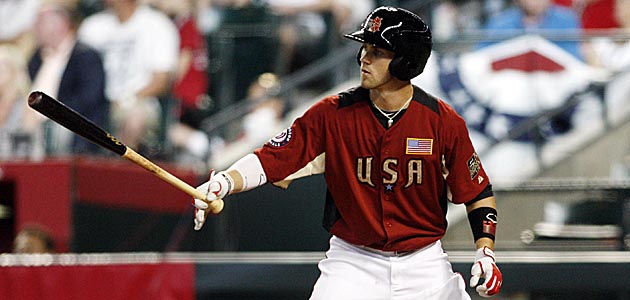 By Matt Snyder
I don't doubt that Bryce Harper is facing pretty heavy hype and scrutiny as the game's top prospect makes his way through the minor leagues in the
Nationals
' system. He's reportedly faced lots of profanity and heckles from fans at nearly every stop. Unfortunatly, that's what comes with being a famous athlete these days. What is even more unfortunate is when a pair of his coaches decide to make a Jackie Robinson mention. From an
upcoming story in Sports Illustrated
:
Harper, a travel-baseball phenom out of Las Vegas at 10, an SI cover boy at 16 and a $9.9 million signee at 17, is the most well-known minor leaguer since Michael Jordan. But Jordan was a novelty, not a prospect. Harper is the most scrutinized prospect since....

"Jackie Robinson," says Tony Tarasco, a former major leaguer and a Nationals minor league coordinator who has become Harper's player-development Yoda. "You have to go back to Jackie Robinson to find anybody who goes through this much scrutiny. It wasn't like this for [Stephen] Strasburg. Wasn't like this for Alex Rodriguez."

Jackie Robinson? Surely Doug Harris, the Nationals' director of player development, with 21 years in pro ball as a player, scout and executive, would find a different comparable for Harper.

Independent of Tarasco, Harris offered, "This is really unfair and it's totally different, but if I can make a comparison to one guy that has been scrutinized like this, it would be Jackie Robinson. And it's unfair because it was a different standard. He was under a microscope in an era when we didn't have Internet, didn't have cellphones.

"Now, Jackie Robinson had his life threatened. I'm not comparing Bryce to that. But as far as nonstop scrutiny? Absolutely. Day to day."
I'm glad Harris qualified his statements and made sure to point out that what Harper faced and what Robinson faced are two completely different things, but that doesn't make the mention any less absurd. As
'Duk at Big League Stew pointed out
, Strasburg faced tons of scrutiny and hype just last season.
What exactly is Harper hearing that draws the mention of a man who had to endure brutal racism, death threats and more day-in-day-out that few of us can even imagine?
"Some of the stuff I hear, I can't say," Harper said (from the above linked SI article). "It's bad stuff. I do hear stuff like 'moneymaker,' 'moneybags.' ... I get 'overrated' a lot -- that's just old. It comes with the territory, I guess. I'm not going to let it bother me."
I'll avoid getting sanctimonious or worked up here, so let's just bottom line it. That's nothing the overwhelming majority of major leaguers don't hear on a daily basis during road trips. Harper himself said it doesn't bother him.
This is not the stuff of Jackie Robinson. Let's leave his name alone in discussions like this.
UPDATE:
Harris has followed up on the conversation with a mea culpa: "In talking to Tom[Verducci of Sports Illustrated], my sole intent was to speak to the scrutiny that Harper faces on a daily basis," Harris said. "That said, the hardships that Mr. Robinson endured in/around 1947 were unique and historical in context. While Harper's current situation is extraordinary by most measures, it pales in comparison to the life of Mr. Robinson, nor will it approach the lasting impact. I regret making this ill-fated correlation." (
CSN Washington
)
For more baseball news, rumors and analysis, follow @cbssportsmlb on Twitter or subscribe to the RSS feed.