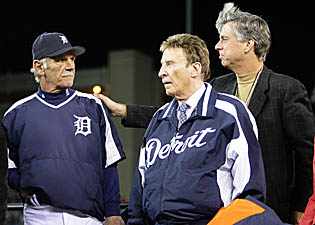 By Matt Snyder
Tigers
general manager Dave Dombrowski and manager Jim Leyland weren't exactly put on the hot seat by owner Mike Ilitch Tuesday, but one message was pretty clear: They should probably win the up-for-grabs AL Central.
"I'd be extremely disappointed if we don't (make the playoffs)," Ilitch said (
Detroit News
), also saying he believed this was the best Tigers team -- "by far" -- since the one that made the 2006 World Series.
Ilitch also said that Dombrowski and Leyland have "done a fairly good job." (
Detroit News
)
On the surface, everything seems OK, but let's put this in perspective. What if your boss said you've done a
fairly
good job but would be
extremely
disappointed if something didn't happen before the end of the year. Personally, I'd make sure that thing got done and then some.
So it seems to me the Tigers better make the playoffs, or else Dombrowski and Leyland might be looking for a new job.
The Tigers are in first place in the AL Central, but they have the lowest winning percentage of any first place team in the majors. The
Indians
are only a game back, the
White Sox
sit just 3 1/2 back and the
Twins
are lingering within seven. With
Justin Verlander
and
Miguel Cabrera
, the Tigers have the best pitcher and hitter in the division. They also have All-Stars
Jhonny Peralta
,
Alex Avila
and
Jose Valverde
. On paper, they should take the division.
Sure, Dombrowski and Leyland might keep their jobs if the Tigers miss the playoffs by a slim margin, but why take that chance? It's gotta be postseason or bust for them.
For more baseball news, rumors and analysis, follow @cbssportsmlb on Twitter or subscribe to the RSS feed.