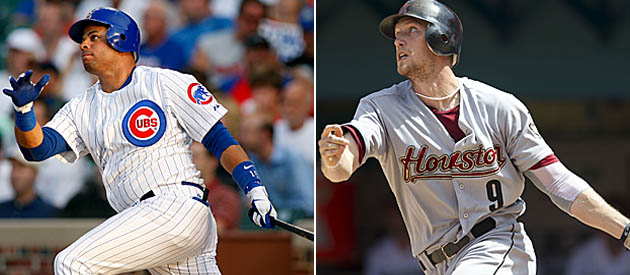 By Matt Snyder
Ah, late July. The perfect time of the year for people who love to talk trade rumors.
What if Team X traded (insert huge name) to Team Y for (insert two or three middling prospects)? Man, Team X would win it all!
While it's all in good fun, many of the rumors swirling aren't overly realistic. So, with that in mind, here's a handful of names that have come up that won't be on the move before next Monday.
1. James Sheilds, Rays.
Last week, reports indicated the All-Star was being made available by the Rays, which instantly put Shields up there with
Ubaldo Jimenez
as the two most attractive starting pitching options on the market. In fact, you could argue Shields was more attractive, especially if he escaped the AL East and headed some place more pitcher-friendly. Monday, however,
CBSSports.com's Danny Knobler reported
that the Rays will not deal Shields. While he's arbitration eligible after this season, Shields doesn't hit free agency until 2013 and he's been the Rays' best pitcher this season. They are obviously planning on competing in 2012, so he's staying put.
2. Aramis Ramirez, Cubs.
If Ramirez was available, he'd snag a pretty penny in return, as third base has become a pretty anemic offensive position. And he likely would be available, if it wasn't for his refusal to be traded -- at least before the non-waiver deadline. Ramirez has repeatedly, almost emphatically, told the media both personally and through his agent, that he will not waive his no-trade clause for any reason until August. He's done so enough, I believe him. He's going to be in a Cubs uniform come August 1.
3. Hunter Pence, Astros.
He doesn't hit free agency until 2014 and the Astros reportedly believe him to be the face of the franchise. Someone would really have to bowl them over to get him -- think the haul the
Rangers
got for
Mark Teixeira
from the
Braves
. While Pence is good, is he really good enough to pay such a high price? At age 28, he's already in his prime and we're seeing what he can. He's a really, really good player. He's All-Star caliber, but not a superstar. The feeling here is there's no match and Pence stays in Houston.
4. Wandy Rodriguez, Astros.
Rodriguez is owed $10.5 million next season and $13.5 million in 2013, with a club option for 2014 meaning the Astros would be asking a potential trade partner to take over $30 million in future salary along with Rodriguez, while coughing up a prospect package in return. Is Rodriguez worth it? He has a 3.60 ERA and 1.30 WHIP in 2010 and 2011 combined. He's also 32 years old. Several reports last week said the Astros wanted as much for Rodriguez as the
Rockies
did for Jimenez -- who is 27 and much cheaper. A major-league general manager recently told
Jon Heyman of SI.com
that "nobody's touching Wandy." I agree.
5. Keep Dreaming Tri-Entries: Matt Kemp, Dodgers; Jose Reyes, Mets and Felix Hernandez, Mariners.
Apparently every season the Mariners aren't in contention, there will always be a group of people who can't let go of the Felix-to-Yankees talk. It ain't happening this year. Also, we've received a bevy of trade predictions and questions about Kemp on Twitter. While it's true the Dodgers are having financial troubles at this juncture, Kemp is an MVP candidate, part of the future nucleus and under team control through 2012. Dream on, people. He's staying in L.A. As for Reyes, it's been quite the whirlwind season. He went from being a sure thing to be traded to absolutely off the market to pretty likely to be retained. Having an MVP season will do that sort of thing. Hey, at least we were given the priceless "Carl Crawford money" line earlier this season by Mets owner Fred Wilpon.
It's funny, though, how fluid things can be around the deadline. Had we written this a week ago, Ubaldo Jimenez would have been on the list. Since then, however, it appears a few teams -- possibly the
Reds
and/or
Yankees
-- have chipped away at the Rockies, because reports now indicate it's a "50-50 chance" that Jimenez gets traded. So stay tuned. This post may have the shelf life of a
Betamax
-- at least in terms of Ramirez, Pence and Rodriguez. I don't not expect things to even come close to changing with Reyes, Kemp or Hernandez. Shields seems like a firm bet to stick as well.
For more baseball news, rumors and analysis, follow @cbssportsmlb on Twitter or subscribe to the RSS feed.