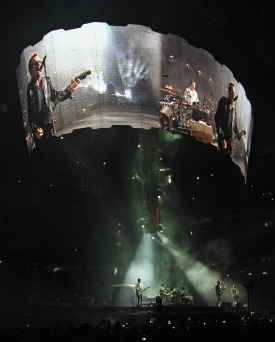 By C. Trent Rosecrans
Count the Houston Astros among the growing number of teams none too thrilled with U2.
Following Monday's loss to the Cardinals, several Astros complained about the new grass surface at Busch Stadium. U2 held a concert at Busch Stadium on July 17 and the team stripped the outfield of grass and re-sodded it afterwards. With the high temperatures, it was difficult for the grass to take root in time for Monday's game, the first post-Bono game held at Busch Stadium, Derrek Goold of the St. Louis Post-Dispatch wrote.
The Edge and company helped the home team in the second inning, when Astros right fielder Hunter Pence slipped on the new sod, allowing St. Louis' Nick Punto to cruise to a triple and drive in a run. St. Louis added another with a one-out fielder's choice by starter Kyle McClellan.
"We knew there was a new sod and ground balls were going to be tougher," Pence told Zachary Levine of the Houston Chronicle. "We really didn't expect all the slipping to go down."
Center fielder Michael Bourn said he had trouble all game.
"If you try to plant good, you'll end up falling," Bourn told Levine.
He added, "You could tell it's very new out there. The cracks are still in the ground, which means the grass had just been planted. We just had to try to get used to it. It's real hard to keep your ground out there. It's real hard to keep your feet underneath you."
Manager Brad Mills said the team was "not thrilled" with the state of the field.
"You want the sure footing and so forth, but it wasn't there and it cost us a little bit," Mills said.
U2 has already given the Mariners an unfair advantage in its series with the Marlins, with three of Florida's "home games" being played at Safeco Field in Seattle. The Mariners won two of the three games.
A U2 concert at Angel Stadium in Anaheim forced the Angels to go on a 12-game road trip that covered more than 8,000 miles. The Angels went 8-4 on the trip and showed no ill-effects on their next homstand, winning 11 of 13 upon their return.
Oakland didn't have quite as long of a road trip as their AL West brethren, going on just a 10-game trip because of U2's concert in Oakland. However, they didn't handle it as well as the Angels, going 1-9 on the 10-game trip to facilitate the band, that like the A's peaked in the late 80s and early 90s.
For more baseball news, rumors and analysis, follow @cbssportsmlb on Twitter or subscribe to the RSS feed.