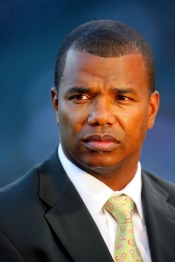 By C. Trent Rosecrans
The non-waiver trade deadline is Sunday, but the White Sox have an earlier deadline -- Wednesday. Where the White Sox stand in the AL Central after their series with Detroit could determine what Chicago general manager Ken Williams will do this weekend.
Are the White Sox, 4 1/2 games behind the Tigers heading into tonight's game, buyers or sellers?
"Certainly we need to wait and get on the other side of this Detroit series," Williams told reporters, including Mark Gonzales of the Chicago Tribune.
Williams acknowledged, in a round-about way, a report in the St. Louis Post-Disaptch that said the White Sox were in talks with the Cardinals for Colby Rasmus. The report noted the deal would due fore Edwin Jackson or Matt Thornton and a minor league player was, "as reported, is incorrect." No doubt if the Cardinals would do such a deal, he'd do it in a heartbeat.
ABout the team that is 49-51 on the season, Williams said the play on the field would decide its fate -- and perhaps, his own.
"At the end of the day, I'm the one that puts everyone in uniform, and I will fall on the sword," Williams said.
For more baseball news, rumors and analysis, follow @cbssportsmlb on Twitter or subscribe to the RSS feed.