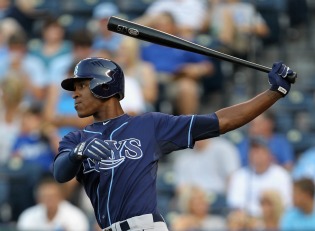 By Evan Brunell

Is it leverage or is there actual interest?
The
Giants
have been after
Carlos Beltran
hot and heavy these last few days, and apparently the idea of giving up top pitching prospect Zach Wheeler has grown to be more and more acceptable in fan and media circles as a price. That's hooey -- you don't trade an elite prospect for two months of an aging slugger, no matter how important he may be to the lineup.
Perhaps as a rebuttal to New York's demands, word has gotten out that the Giants are interested in the
Rays
'
B.J. Upton
,
reports Fox Sports
. While Upton's price isn't lower than Beltran's -- in fact, it might be higher -- two things work in Upton's favor. First is his age, as Upton will turn 27 in late August, while Beltran is 34. Add in Beltran making $18.5 million on the year, plus the inability for the team to offer arbitration, as it was written in his contract, and suddenly Beltran pales in comparison to Upton, who is under team control for one more season and is playing for the relatively cheap price of $4.825 million.
Of course, production has to be considered. Beltran is raking to the clip of a .291/.393/.520 mark while Upton struggles along at .229/.310/.395. This is a player, though, that once hit 24 home runs at age 22 (and batted .300) while stealing over 40 bases a year regularly. The potential for Upton is off the charts, and the feeling in baseball is that he's primed for a breakout as soon as he gets out of Tampa Bay.
Wheeler makes sense as a cost for Upton, but not Beltran. San Francisco isn't the only one with this idea, though, as a fellow Beltran suitor has been linked to Upton lately, with the
Indians
inquiring.
This seems more likely to be mere leverage the Giants are exercising, though. Right now, they're in "win now" mode, plus GM Brian Sabean is loathe to trade away his top prospects. That would seem to work against an Upton deal moreso than a Beltran one. But Sabean needs to do his due diligence and show Alderson there are other options out there. Because the way it stands, there won't be a deal between San Francisco and New York -- not if Wheeler is the asking price.
For more baseball news, rumors and analysis, follow @cbssportsmlb on Twitter or subscribe to the RSS feed.